WHAT YOU GET WITH THE MEDITATION TRAINING PROGRAM
1. Mastery of Meditation Teacher's Training Manual (77 Chapters / 370 Pages):
This extensive and detailed e-book comes complete with full color illustrations and active links. The links allow you to access additional material you may wish to study in order to deepen your knowledge and understanding of meditation, yoga and enlightened living.
The book will not just help you navigate the course easily, but will also serve as an excellent reference manual for you once you begin to teach your own classes. This manual consists of the very best articles and techniques from the Mastery of Meditation and Yoga web site and much much more.
The week by week syllabus and instructions on how to do this program are also included in the manual.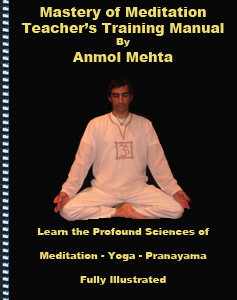 2. 15 Highly Acclaimed Meditation, Yoga and Pranayama Videos:
To ensure you learn the techniques correctly and precisely, this program comes with 15 online videos. The videos teach and demonstrate all the important meditation, yoga and pranayama techniques used in the program. The videos are all excellent quality and have received nearly 1 million views so far. In addition, they have also all received 5 star ratings from the viewing communities.
Each video also has an accompanying chapter in the training manual, which gives you the necessary details about the techniques being taught.
Finally, all the videos are linked to from the Meditation Training Manual, so they can be easily accessed and integrated into your training.
3. Meditation Teacher Certification:
Upon successful completion of the program you will receive a signed certificate and a letter of recommendation from Anmol Mehta and Mastery of Meditation and Yoga, indicating you have passed the Meditation Teacher's Training Program and are fully qualified to teach both basic and advanced Meditation. This includes teaching Yoga for Meditation and Pranayama as well.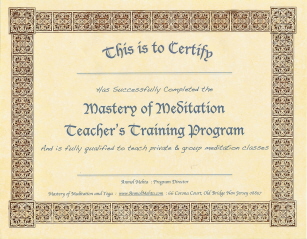 4. Online Web Listings on Mastery Meditation and Yoga:
Upon graduating, depending on which level you sign-up with, you and your meditation center will be listed in the Certified Meditation Teachers and Meditation Centers Directory (PR4). As the certification program was launched in 2010, the first batch of students are now graduating and you will find their listings there.
In addition, if you sign up for the full amount, you will also receive a listing on the following page, Best Yoga and Meditation Web Sites, which is a high ranking Google Authority Page (PR3).
Please see details regarding these listings in the Fees section below.
I also rigorously use the Mastery of Meditation and Yoga web site to promote the teachers, their classes and their centers.
5. Free Subscription to the Meditation Teacher's Newsletter:
Being part of the training program gives you exclusive access to the Mastery of Meditation Teacher's Training Newsletter. This newsletter is sent about 1 time per month only to the enrolled students and graduates, and is packed with key information, tips and free gifts to help you succeed as a meditation teacher.