Heated Controversy Confirmed by Survey – Should Spiritual Services be Free or Not?
Should Spiritual Services be Free
Money and Spirituality
As usual, before I write any article regarding charging money for spiritual services, free yoga, free meditation or other business aspects of spiritual services, I first like to give my standard disclaimer to avoid any misunderstandings and here it is.  I am very happy to offer my website in it's free format, and plan to continue it and the online yoga and meditation classes for free.  In addition, this article is not a request for money and I am not against those making money from their spiritual work either.  Now onto this very heated topic of whether or not one should charge money for spiritual services.
This has undoubtedly been the most heated and controversial topic on Mastery of Meditation and Yoga so far.  You will find the original survey here (Survey: Should Spiritual Services by Free or Not?) and are welcome to still participate, as these surveys remain active and continue to collect data for research and study in the fields of yoga, meditation and spiritual living. 
If you look in the comments section of the survey page above you will notice a lively debate, with very intelligent, thoughtful and at times passionate responses from both sides of the fence.  The results of this survey were quite incredible and as you will notice below, show that this is clearly one of the most polarizing topics in the spiritual world.  In addition, those on either side believe quite passionately in their point of view and generally have quite potent arguments to defend their opinion as well.
I really did not know exactly what to expect from this survey, but I certainly did not anticipate such an incredibly close competition between the two sides.  So here are the current standings in this very, very close survey:
SHOULD SPIRITUAL SERVICE BE FREE OR IS IT OK TO CHARGE? – RESULTS
Survey Results

| Value | Count | Percent % |
| --- | --- | --- |
| Yes, It's OK to Charge | 52 | 51.49% |
| No, It Should be Free | 49 | 48.51% |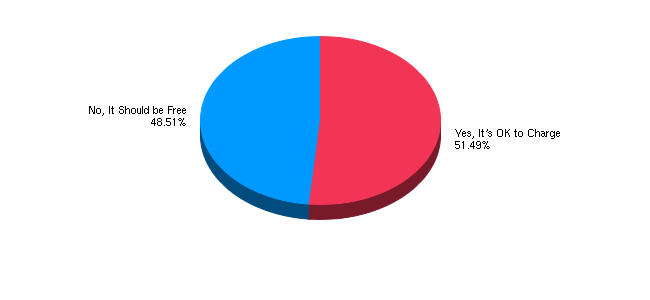 Free Spiritual Services or Not Survey Analysis:
As you can see from the results above, it is really too close to call.  For those who remember the close elections here in the US between Al Gore and George Bush, this survey could also be decided by a dangling chad

.  51% said it was ok to charge money for spiritual services, while 48% said spiritual services should be given for free.  I waited an extra week to two to allow more data to come in, but the incoming votes continued to reflect this deep divide on this controversial topic.  If you have not yet voted, feel free to chime in, as I mentioned the surveys remain active and I will keep an eye on this one to see if it leans one or another over time.
What I want to do next with regard to this topic, is briefly summarize the arguments from both sides, to give you insight into what each is thinking and give you some food for thought.  So here are the top 4 reasons I get from each of these sides to defend their point of view. 
Please read my disclaimer above if you have not already.  I am just presenting the arguments from both sides here.

Top 4 Reasons Spiritual Services Should be Free:
1. Reflection of Greed and Power:
The most common reason that spiritual services should be free is the argument that those who charge are not really interested in helping others, but are really just interested in making money.  That the spiritual practitioners who charge money are really businessmen and find the spiritual marketplace an easy way to get rich and powerful.  Along similar lines, come the arguments that those who charge are really fake gurus, con men, un-enlightened, etc, etc.
2. Trust Life to Support You:
Another common argument, which is very deep, is that you should not worry about money and security and just go about doing what you love to do, leaving life to help support and care for you.  This is in fact a necessary approach to living moment to moment and free of worry, but of course, the counter argument is that life is sending you clients to help you survive and pay your bills, so to not charge them would be refusing the very help life is giving you.
3.  Only Use a Donation Based Model:
The third common argument is to stick to a donation only model.  Here allowing people to donate to you according to their financial capacity and also, allowing for other forms of donation besides money, such as work exchange (karma yoga), etc.
4.  Compromise is Inevitable:
If you decide to sell your spiritual wares on the marketplace and money becomes important, then sooner or later you will start to compromise or adjust your services to what the masses are willing to pay more for.  Don't discount this argument casually, it is quite powerful. 
For example, you may start off teaching the Great Truth that desire is the root cause of suffering, but soon realize that there is no marketplace for that, but can make a pretty penny telling people all about the Law of Attraction and how to manifest their dreams and so become a Law of Attraction guru instead.  This is just an example of how you might start to modify your teachings to suit the marketplace, I am not against the Law of Attraction or anything.  Selling your spiritual services could be leading you down such a slippery slope.  You may soon find yourself compromising or adjusting what you teach or do, to better serve your desire for success, fame and money, instead of just following your passion as you originally intended to. 
Top 4 Reasons You Should Charge for Spiritual Services:
1. Practicality:
The top reason to justify charging for your services, is simply one that you need to eat, feed your family and have money so you can devote yourself to your passion.  The variations to this reason include arguments along the line that donation based models no longer work, society is no longer structured to support spiritual practitioners like the old days, life is supporting you by sending you the clients you need, etc.  This argument asserts that in today's world, charging is quite accepted and the framework within which one can support oneself and one's family.

2.  Energy Exchange:
The next most common reason, is the one of energy exchange to complete the transaction.  This reasoning has it's roots in the Law of Karma, and is essentially saying that for the services you receive, you pay the provider back and money is just a form of energy you use.  This is close to the donation based approach used to argue the free model, except generally speaking, money is required for the exchange.  A nice variation to this argument is to charge for your services, but have a free option available as well.  Or as Yogi Bhajan was reputed of doing, leave change in the bushes outside his classes, so the students who did not have the money, could complete the energy transaction with this money.

3.  Free is Not Appreciated:
This argument should not be dismissed casually, as it does have merit.  What is essentially being argued here is that psychologically or subconsciously that which we receive for free is really not appreciated.  This then means that the free yoga or other free services are not given their required respect or devotion.  This casual approach to that which is free, finally prevents the recipient from extracting the full benefits of the service.  This point argues that in today's world we have been programmed at some level to value those things that we pay for, and thus free services are simply not given their due respect.

4.  What's Wrong with Being Rich:
Along the lines of the idea that money is energy, is the thinking that the more money you have, the more energy you have and therefore the more good you can do.  After all if you are a good person, and you have at your disposal large sums of money, you will be able to do a lot of good in the world with it.  In addition, part of the being rich thinking is that what is wrong with having money anyway?  Why is that wrong or evil?  Why must those who are spiritual be poor?  And should not spiritual services be valued highly as well?
Summary of Free Spiritual Services Survey:
So I am sure you can see from the above, there are a lot of great points and arguments from both sides on this very difficult issue.  In general this issue comes under the big issue of Practicality versus Passion, which I can assure you is a subject of great debate as well.  One final thought that comes to mind, is I wonder how may of those who said spiritual services should be for free are spiritual providers, while those who said it is ok to charge money are actually clients

.  Well, that is a question for a future survey I guess 

.
If you have more points you would like to contribute to this debate, please feel free to jump in and share them with us in the comments section below.