Self Help Lessons | Don't Make these Big Mistakes in Your Life
Self Help
Life Lessons to Help Yourself

One of the most popular survey's on Mastery of Meditation and Yoga is Your Biggest Mistakes in Life survey.  Life is really not long enough to make and recover from every possible mistake, so it is very important to learn, not just from your own mistakes, but also, to learn from the mistakes of others.  For this reason, I think this survey is one of the most important ones we have running, and for those really interested in true Self Help, it is priceless.
So, I would like to update you with the results of this ongoing survey, as now more than 160 responses have been processed.  This means we can help ourselves by learn from the experience of these 160 people and help avoid making the same mistakes that they regret making.   This survey really helps us learn some very important life lessons.
Please note, that since multiple answers were allowed for each participant, the percentages will not add up to 100%, but instead reflect the ratio of that response to the total number of participants.
Survey Results of Biggest Mistakes in Life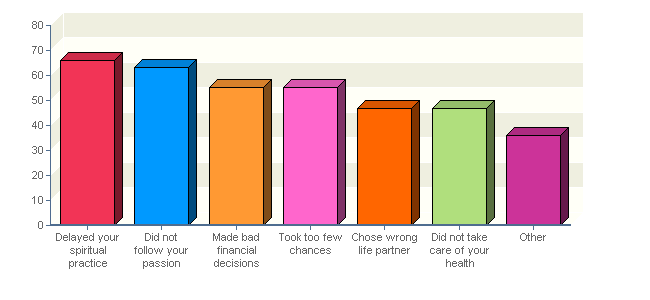 Biggest Mistakes in Life Results
ValueCountPercent %Delayed your spiritual practice6642.04%Did not follow your passion6340.13%Made bad financial decisions5535.03%Took too few chances5535.03%Chose wrong life partner4729.94%Did not take care of your health4729.94%Other3622.93%
Lessons Learned to Help Yourself:

Still number 1 on the list is "Delayed Your Spiritual Practice."  So just don't procrastinate anymore!  This is the biggest mistake people have made in life, and I cannot emphasize enough the importance of avoiding this mistake if you have the chance.  Start your practice today.  Do not wait for things to be perfect.  Do not wait for the perfect time, place, guru, etc.  Just start, as best as you can, everything else will fall into place.
Once you start your practice, other self help issues will start to resolve themselves.  The insight you will gain from a strong spiritual practice will help you understand relationships better.  It will help you uncover your real passions.  It will give you the heart and courage to take the necessary risks.  And of course, it will improve your health DRAMATICALLY.  Nothing is better for your health and longevity than a good yoga and meditation practice.  So what are you waiting for?  Jump in and let the adventure begin.

Here are some popular self-help articles that explore each of these topics in greater detail.  Find the ones in the category that you feel you need some work on and follow through.  Good ideas are just ideas.  You must implement these ideas in order to grow personally and spiritually.  Make a reasonable commitment and follow through on it.  Your muscles of willpower will grow, as will your intuitive abilities and courage.  Then you will find yourself able to align your life with your passions, and that is the key to living a meaningful and joyous life.

Stop Procrastinating Now:
Golden Rule to Stop Making Excuses and Start Meditation Now
10 Keys for Turning Ideas Into Reality
Understanding Money and Finances:
Money Money Money and the Path to Enlightenment
Role of Money, Pleasure & Career in Spirituality
Importance of Passion in Life:
Stop the Madness of Self-Discipline
Having the Courage to Take Risks:
New Kundalini Yoga Classes & the Courage to Live Dangerously
How to Improve Your Health and Longevity:
Please take a look at the free online classes and the articles on Ayurveda
Free Online Yoga & Meditation Classes
Improving and Understanding Relationships and Love:
The True Purpose of Relationship
Relationship Issues for the Spiritually Inclined
Special Technique for Fun and Healthy Relationships

Final Word on Self Help Lessons:
An important final word I do want to make, is that another purpose of this survey is to ensure you make thoughtful decisions and don't rush into commitments that are then hard to get out of.  Of course, all challenges are learning opportunities for us, so technically there are no "mistakes" in life, but it is also up to us to live intelligently and try to do our very best always.  The results are, of course, always in the Lord's hands.