Free Exercise and Fitness Tips from Yoga
Free Exercise Tips
Fitness and Exercise Tips
Although yoga exercises can help form a great fitness routine, there are other forms of exercise as well which you might be interested in incorporating into you regiment, and to enhance such fitness programs there are many great tips you can get from yoga.  In this article I will give you 3 free tips from yoga to make your exercise and fitness routine better.
These 3 tips are helpful regardless or what kind of exercise and fitness routine you have.  Whether it's aerobic activity, resistance training, sports, martial arts, dance or any other type of exercise, I think the following tips will prove to be very useful to you.

Free Exercise and Fitness Tip #1:

Use powerful, Breath of Fire, yogic breathing to kick start or enhance your exercise routine. 
One of the best ways to start your exercise routine is to oxygenate your blood, raise your level of energy, warm-up your body and get your respiratory and circulatory systems firing.  Kundalini Yoga's Breath of Fire is one of the best exercises for accomplishing all of the above safely and quickly.  You will find full details about this technique in the following article: Breath of Fire Kundalini Yoga Breathing Exercise.

This breathing exercise is a great pick me up and is a perfect antidote for those times when you are feeling too lethargic or lazy to do your exercises.  Moreover, the breathing exercise can be combined with stretching, as well as other aerobic activity, to extract maximum benefits from the exercises.  Breath of Fire done with exercises, helps to pump oxygen rich blood into areas of focus, thus helping the overall benefits of the exercise.

Below I have included for you a free instructional video of how to do the Breath of Fire Breathing Exercise, and a particular variation of this exercise which is a great way to do Breath of Fire to get your entire system going.
Free Exercise and Fitness Tips Video and Illustrations
Breath of Fire Instructional Video
Breath of Fire in Venus Pose Illustration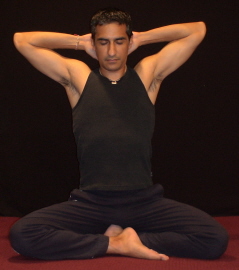 How to Do Breath of Fire in Venus Pose:
Doing Breath of Fire in Venus pose really helps free your lungs to breathe powerfully, and quickly raise your level of energy.  You can do this exercise either sitting on your heels, sitting cross legged (as I have demonstrated) or even do it stating up.

After you take the posture of you choice, interlace all your fingers and place the palms of your hands behind your head, as shown in the above Illustration.

Spread your elbows out wide to expand your chest and keep your back and spine straight.

Now begin Breath of Fire breathing exercise.  Breath of Fire is essentially rapid breathing through the nose, with equal emphasis on inhalation and exhalation.  Your abdomen will pulse in rhythm to the breath, you only need to concentrate of the rapid breathing at the tip of the nose.  The video above has full details and tips about this technique.

To get the most out of this exercise, try to do the breath Powerfully!!  In about 1 to 2 minutes this technique will really get your system fired up and ready.

Free Exercise and Fitness Tip #2:
As we all know, before doing any exercise and fitness routine, one should stretch and for stretching there is nothing better than yoga.  So tip number 2 is to use yoga poses to stretch the body and prepare it before you start your routine or sport.  In fact, this tip is not just for before you do your exercise, but applies equally for after you finish.
Stretching after your exercise routine is also very good to do and helps prevent some of the muscle soreness that can happen after strenuous exercising.  Also, stretching afterwords, when the muscles are warm, is excellent for improving overall flexibility. 
The following 2 sets have some great stretching exercises for you to pick from to help the body get ready prior to your fitness routine or sport, and help cool down afterwords.
Yoga Set for Stretching:  This is an excellent set for stretching your entire body. 
Basic Yoga Poses:  This set has some nice stretches, as well as some good warm-up exercises.

I hope you find the above tips beneficial and, of course, stay tuned for more free tips and techniques to enhance your exercise and fitness routines in the near future.