Basic Yoga Poses for Balance – Part 2
Basic Hatha Yoga Poses

Easy Hatha Yoga Poses for Balance

In part 1 of this mini series on basic yoga poses for balance I detailed the popular kundalini yoga extension pose and in part 2 I will go into another great pose to help you with your physical balance, Hatha Yoga Tree Pose.
As always, these poses will become part of our constantly growing free online yoga poses E-books and feel free to reference them anytime you are looking to develop your personal yoga practice.  You will find the following 2 e-books very handy for learning useful yoga poses.  The Free Online Kundalini Yoga Poses E-book and the Free Hatha Yoga Poses.  Also, a quick reminder that if you are interested in yoga videos or guided meditation techniques.  These too are available freely on Mastery of Meditation and Yoga and you will find them here:  Free Yoga Videos and Free Online Guided Meditation Techniques.
As promised, Hatha Yoga Tree Pose is being demonstrated to you by my son Shivum.  This was actually a pose he was taught in school and eager to demonstrate for daddy

.  Again these basic postures should not be underestimated due to their simplicity.  They are core yoga positions and very effective in developing your balance, which is an important part of your overall physical health and level of fitness.

Basic Yoga Poses for Balance Part 2

Illustrated Hatha Yoga Tree Pose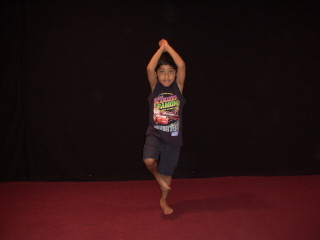 New Illustration of Yoga Tree Pose w/ Hands in Namaste Pose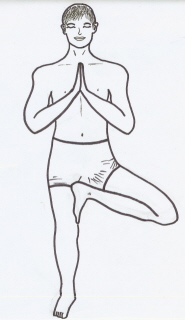 Basic Yoga Poses for Balance:
a. Instructions for Practicing Hatha Yoga Tree Pose:

Stand up straight.  Have your eyes open

and find a point to focus on.  Gaze steadily at this point as you practice this pose.  This will help you keep your balance and also help you develop the power of concentration and mental focus.

Now lift up your right leg by the ankle and place it high up on your left inner thigh.  Place it as high as is comfortable.  Release your ankle after you have steadied yourself.  (The illustration shows the leg on the calf, but if possible you want it high up on the inner thing, with the knee pointing out to the side).

Now bring the palms of your hands together in Namaste Pose and bring your arms over your head trying to keep your elbows as straight as possible.  Hold the pose steadily while breathing long, deep and slow.

After half the time, switch legs.

b. Duration for Hatha Yoga Tree Pose:
1 – 3 minutes / side.  If 1 minute is too much you can start with 15 seconds and build up from there as well.

c. Benefits of  Hatha Yoga Tree Pose:
Excellent for building physical balance and agility.

Strengthens your legs.


Builds mental focus and the power of concentration.

Good for flexibility of the hips and shoulders.
d. Practice Tips & Modifications for  Hatha Yoga Tree Pose:  There are several modifications to Tree Pose and let me share 2 of the important ones with your here.
Hands in Namaste Pose:  Instead of bringing your hands over your head, have them in Namaste Pose (Prayer pose) at the level of your chest.  This is perhaps the most basic version of Tree Pose.

Foot In Front:  Instead of having the sole of your feet on the opposite inner thigh, instead have the entire foot up high on the front of the opposite thigh.  So the left foot would sit high up on the front of the right thigh as an example.  Be careful with your knees if you plan on using this variation.

Online Yoga Sets Using Hatha Yoga Tree Pose:
(coming soon)