Best Yoga Exercises – Part 1
Top 10 Yoga Exercises
Best Yoga Poses and Positions

Mastery of Meditation and Yoga now houses a wealth of yoga resources, including free hatha yoga poses, free kundalini yoga exercises, free yoga breathing exercises and great collections of free yoga exercise videos.  As a matter of fact, I often hear, "Anmol your site is overwhelming, it has too much information", but really that is a good thing, is it not

?  My good friend Ben, who is the author of the great spiritual blog – PeacefulProsperity.Com, recently did a Review of AnmolMehta.Com, and the one caution he made was the following…
The only cautionary critique I have of the site is also one of its strengths… There is an incredible amount of content there! It can be a bit overwhelming.  I recommend you visit the site in a focused state… have a plan and stick with it… just read the most recent blog post, or start one of the online classes… stay focused… and if you find your self enjoying it, you can gradually branch out from there…
I have, of course, tried very hard to organize this site to make it easy to navigate and easy to find what you are looking for, whether that be certain yoga exercises, pranayama techniques on advise on how to meditate.  An article which helps you with how to navigate this website is AnmolMehta.Com Blows Past 2 Million Page Views – Best Free Yoga Website.  But, what I also find helpful, is from time to time putting together articles that brings together various parts of the content that is already there, and this is one such article.  In this article, I am going to provide you with the 10 best yoga exercises, from all the yoga techniques and asanas that are published on the site.
What you will find with the yoga exercises below, is that they can be practiced by both beginners, as well as advanced yogis.  Most of the poses that are difficult have modifications provided.  Also, I have selected a range of poses and exercises, which are not just great, but which together cover almost all aspects of the body and internal systems.  You can include these exercises freely into your daily yoga program, and I will also give you some suggestion on how to sequence them in part 2 of this series.  Also, it is important to follow the guidelines for yoga that I have put together in the following 2 articles: 10 Important Guidelines for Kundalini Yoga Practice and Essential Beginner's Guide to Yoga Practice.

Each yoga exercise and pose below has a link to the document with all the details about that technique, so you can read more about it by heading over to that article.  These poses and exercises are from across both great schools of yoga, hatha yoga as well as kundalini yoga, and you will find many of them used in the yoga sets and free online yoga classes that are offered here on the blog as well.  One final note, is that the 10 exercises I have listed below are in no particular order.
In part 1 of this series, I will list 5 of the top 10 exercises and in part 2 of this series I will complete the list.  So here are the top 5 yoga exercises…

10 Best Yoga Exercises:
Yoga Exercise #1:
Spinal Warm-up – Kundalini Yoga Grind:
The first exercise of the great Kundalini Yoga Spinal Warm-up Series is a must in any serious yoga practice.  It is called Kundalini Yoga Grind and it is a great way to work on your elimination system, digestive system and get the lower back ready for some serious yoga.  It is a perfect way to start any yoga set.  You will find a demonstration of this exercise in the yoga video below.

Best Kundalini Yoga Warm-up Exercises Video
Kundalni Yoga Grind Video Demonstration
Yoga Exercise #2 – Kundalini Yoga Rowing:
Again, the first exercise of the Best Beginner's Kundalini Yoga Set is an excellent exercise for daily practice.  It is called Yoga Rowing and it frees up your hips, helps you develop flexibility in your hamstrings and also works on your abs and shoulder… whew, all that and it is really a simple movement as well.  Can't go wrong with this one

.  Again, this exercise is demonstrated in the yoga video below.

Best Beginner's Kundalini Yoga Exercises Video
Yoga Rowing Exercise Video Demonstration
Yoga Exercise #3 – Yoga Forward Bend –
Paschimothan
Asana
If you have not done your Forward Bending Yoga Pose for Healing, you have not done your yoga for the day yet, period.  As I mentioned in the article detailing this pose, if there was just one Hatha Yoga Pose to do, this would be it.  It stretches the entire back of your body and is known for triggering spontaneous healing and known to grant yogis with a long healthy life.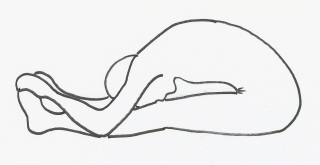 Yoga Exercise #4 – Yoga Stretch Pose for Abs
If there was just one yoga position you could do for your abs, Yoga Stretch Pose Core Abdominal Power would be it.  This great pose, has some easy modifications for beginners, and also gives advanced yogis a real challenge when held for a prolonged period of time.  It is one of my favorite yoga poses and a must do everyday exercise.  Oh yes, I almost forgot, this position is also excellent for working on your Navel Chakra, to help you develop amazing energy and tremendous willpower.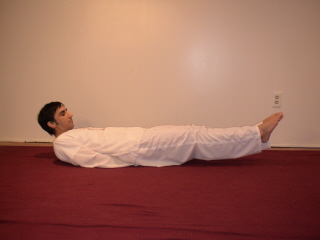 Yoga Exercise #5 – Bow Pose – Dhanur Asana



Here is the yoga exercise which holds the power of eternal youth and longevity, the famous Yoga Bow Pose.  Done regularly it has been known to keep you looking young and give you the energy and vitality of youth.  The advanced yogi can develop rocking in this pose, which is even more beneficial to you.  You will find your digestive system, respiratory system, entire spine, legs, shoulders and overall flexibility improved by this great yoga exercise.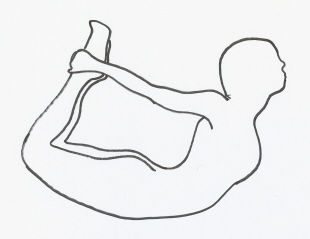 Stay tuned for part 2 of this series where I will give you 5 more top yoga exercises.