Best Yoga Poses and Exercises – Free Comprehensive Guide
Top 10 Yoga Poses
Free Poses for Yoga

This is the last part of the best yoga poses and exercises series.  It combines the first two parts for easy bookmarking, and now includes information on how best to sequence and enhance these excellent yoga poses for maximum benefit as well.
[This was part 1 of the Best Yoga Poses and Exercises Series]

Mastery of Meditation and Yoga now houses a wealth of yoga resources, including free hatha yoga poses, free kundalini yoga exercises, free yoga breathing exercises and great collections of free yoga exercise videos.  As a matter of fact, I often hear, "Anmol your site is overwhelming, it has too much information", but really that is a good thing, is it not

?  My good friend Ben, who is the author of the great spiritual blog – Meditation, Energy Oneness and Consciousness (PeacefulProsperity.Com) recently did a Review of AnmolMehta.Com, and the one caution he made was the following…
The only cautionary critique I have of the site is also one of its strengths… There is an incredible amount of content there! It can be a bit overwhelming.  I recommend you visit the site in a focused state… have a plan and stick with it… just read the most recent blog post, or start one of the online classes… stay focused… and if you find your self enjoying it, you can gradually branch out from there…
I have, of course, tried very hard to organize this site to make it easy to navigate and easy to find what you are looking for, whether that be certain yoga poses, pranayama techniques on advise on how to meditate.  An article which helps you with how to navigate this website is AnmolMehta.Com Blows Past 2 Million Page Views – Best Free Yoga Website.  But, what I also find helpful, is from time to time putting together articles that brings together various parts of the content that is already there, and this is one such article.  In this article, I am going to provide you with the 10 best yoga poses, from all the yoga techniques and asanas that are published on the site.
What you will find with the yoga poses below, is that they can be practiced by both beginners, as well as advanced yogis.  Most of the poses that are difficult have modifications provided.  Also, I have selected a range of poses and exercises, which are not just great, but which together cover almost all aspects of the body and internal systems.  You can include these exercises freely into your daily yoga program, and I will also give you some suggestion on how to sequence them in part 2 of this series.  Also, it is important to follow the guidelines for yoga that I have put together in the following 2 articles: 10 Important Guidelines for Kundalini Yoga Practice and Essential Beginner's Guide to Yoga Practice.

Each yoga pose and exercise below has a link to the document with all the details about that technique, so you can read more about it by heading over to that article.  These poses and exercises are from across both great schools of yoga, hatha yoga as well as kundalini yoga, and you will find many of them used in the yoga sets and free online yoga classes that are offered here on the blog as well.  One final note, is that the 10 poses I have listed below are in no particular order.
In part 1 of this series, I will list 5 of the top 10 poses, in part 2 of this series I will complete the list and in the final part of this series I will tell you how to create the best sets and sequences using these poses.  So here are the top 5 yoga exercises…

10 Best Yoga Poses:
Yoga Exercise #1:
Spinal Warm-up – Kundalini Yoga Grind:
The first exercise of the great Kundalini Yoga Spinal Warm-up Series is a must in any serious yoga practice.  It is called Kundalini Yoga Grind and it is a great way to work on your elimination system, digestive system and get the lower back ready for some serious yoga.  It is a perfect way to start any yoga set.  You will find a demonstration of this exercise in the yoga video below.

Best Kundalini Yoga Warm-up Exercises Video
Kundalni Yoga Grind Video Demonstration
Yoga Exercise #2 – Kundalini Yoga Rowing:
Again, the first exercise of the Best Beginner's Kundalini Yoga Set is an excellent exercise for daily practice.  It is called Yoga Rowing and it frees up your hips, helps you develop flexibility in your hamstrings and also works on your abs and shoulder… whew, all that and it is really a simple movement as well.  Can't go wrong with this one

.  Again, this exercise is demonstrated in the yoga video below.

Best Beginner's Kundalini Yoga Exercises Video
Yoga Rowing Exercise Video Demonstration
Yoga Pose #3 – Yoga Forward Bend –
Paschimothan
Asana
If you have not done your Forward Bending Yoga Pose for Healing, you have not done your yoga for the day yet, period.  As I mentioned in the article detailing this pose, if there was just one Hatha Yoga Pose to do, this would be it.  It stretches the entire back of your body and is known for triggering spontaneous healing and known to grant yogis with a long healthy life.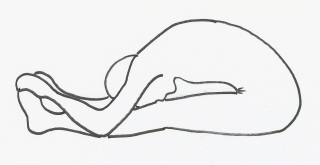 Yoga Pose #4 – Yoga Stretch Pose for Abs
If there was just one yoga position you could do for your abs, Yoga Stretch Pose Core Abdominal Power would be it.  This great pose, has some easy modifications for beginners, and also gives advanced yogis a real challenge when held for a prolonged period of time.  It is one of my favorite yoga poses and a must do everyday exercise.  Oh yes, I almost forgot, this exercise is also excellent for working on your Navel Chakra, to help you develop amazing energy and tremendous willpower.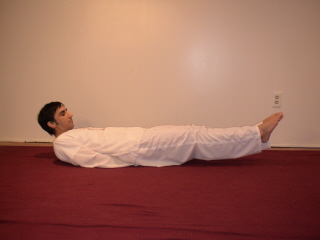 Yoga Pose #5 – Bow Pose – Dhanur Asana



Here is the yoga pose which holds the power of eternal youth and longevity, the famous Yoga Bow Pose.  Done regularly it has been known to keep you looking young and give you the energy and vitality of youth.  The advanced yogi can develop rocking in this pose, which is even more beneficial to you.  You will find your digestive system, respiratory system, entire spine, legs, shoulders and overall flexibility improved by this great yoga exercise.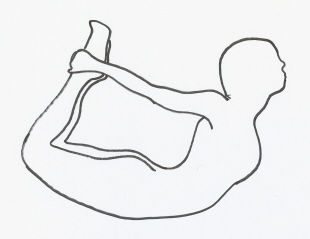 [This was part 2 of the Best Yoga Poses and Exercises Series]
Top 10 Poses for Yoga – Part 2

Best Hatha and Kundalini Yoga Poses

In part 1 of this series Best Yoga Exercises and Poses, I provided the first 5 yoga poses and exercises of the top 10 list.  Although, I will briefly summarize those 5 exercises for you here, I suggest reading that part as well, as it has a lot of yoga tips and guidelines to help you with your practice.  In this part of the series, I will present the next 5 top yoga positions and in the next and final part of this series, I will give you some suggestions on how to sequence these poses and exercises for a complete and effective yoga workout.

Here briefly are the first 5 yoga exercises from part 1.  All the titles below are links to the fully illustrated documents which have all the details on how to practice these poses.
1. Kundalini Yoga Spinal Warm-up Series – Kundalini Yoga Grind

2. Best Beginner's Kundalini Yoga Set – Yoga Rowing Exercise
3. Forward Bending Yoga Pose for Healing
4. Yoga Stretch Pose Core Abdominal Power    
Poses for Yoga – Exercises 6 – 10:
Below you find poses 6 through 10 of this list.  Again, for beginners please use the modifications provided for any difficult positions.  Also, please follow the guidelines for yoga practice detailed in the following 2 articles: 10 Important Guidelines for Kundalini Yoga Practice and Essential Beginner's Guide to Yoga Practice.

Yoga Asana #6:
Plough Pose:
Remember that warning I keep giving to beginner's that they ought to use modifications for any difficult positions?  Well here is when you must heed it.  This is not an easy posture to come into and if you rush it or force it, you can injure yourself.  So approach this one with caution.  Having said that, Plough Pose is an excellent posture to learn and practice.
This position puts pressure and massages several important regions of the body simultaneously and thus, works on the associated chakras in these regions at the same time.  It is very good for the sexual systems and works on the Sex Chakra, it is good for the digestive system and works on the Navel Chakra, it is good for heart health and works on the Anahata Chakra, it is good for thyroid function and work on the Throat Chakra as well

.  I do suggest reading the detailed document for this position and using the practice tips that are provided there.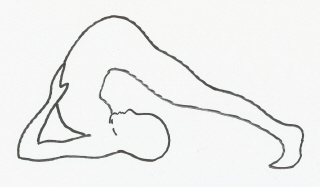 Yoga Plough Position Picture

Yoga Asana #7 – Kundalini Yoga Archer Pose:
Archer Pose for Confidence and Self-Esteem is simply a great yoga asana.  If you need to expand in any way this is the pose for you.  Expand your energy, expand your nervous system, expand your lung capacity or expand your confidence, courage and self-esteem.  The danger… yes it will expand your ego too if you do too much, so watch out for that, and balance it with Baby Pose if necessary 

.  Don't forget to breathe powerfully when you are in this posture, to get maximum benefit from it.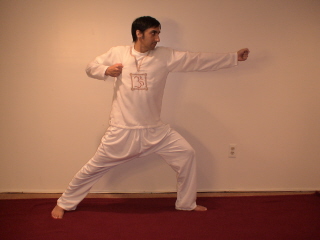 Yoga Archer Position Picture

Yoga Posture #8 – Mountain Pose
As I mentioned in part 1 of this series, not only am I picking for you the top 10 yoga poses and exercises, but am also picking them such that they cover all aspects of your body and systems.  And so we have Mountain Position (or Downward Facing Dog Pose) to work on your arm strength, nervous system and overall flexibility, which were yet to be targeted.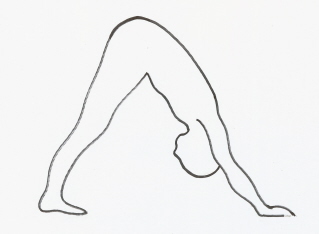 Yoga Mountain Pose Picture
Yoga Pose #9 – Yoga Frog Exercise

If you thought you were going to get away from doing Yoga Froggies for Legs you were wrong

.  Students in my class know it is time for hard work when we get to this exercise, but they also know that to have strong legs, firm buttocks and toned thighs there is no better exercise than this.  In addition, froggies get your heart rate going and thus, work on your fitness and stamina as well.  Remember to be careful with your knees, and take frequent breaks in between as well.  The goal is to build up to 108 repetitions!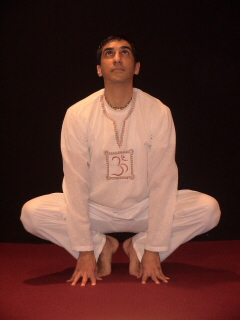 Kundalini Yoga Frog – Starting Position Illustration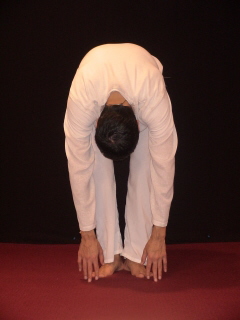 Kundalini Yoga Frog – Ending Position Illustration

Yoga Pose #10 – Eagle Pose



The great thing about yoga, is that not just does it work on the obvious aspects of your body, such as the muscles and internal systems, but it has exercises to work on the more subtle aspects of your being as well.  Kundalini Yoga Eagle Pose for Powerful Aura, is just such an exercise.  It is designed to strengthen and charge your magnetic field.  So if you want to be charming, magnetic, influential and protected from the hidden forces of the Universe, it is time to come into Eagle Pose and fly using the Breath of Fire.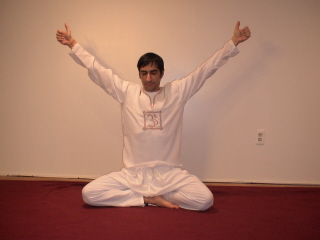 Yoga Eagle Pose Picture
[Here now is the third and final part of the Best Yoga Poses and Exercises Series]
Best Free Yoga Poses – Final Part
So now that we have a nice collection of yoga poses, let me give you some details on how best to enhance these exercises and also, which other ones you can squeeze in to get a very complete and effective yoga workout.
Best Yoga Sequence and Enhancements:
The order in which the poses are given is a excellent sequence in which to do these exercises and postures.  Such a set would be balanced and also, would work on your entire body and systems very thoroughly.  In addition, I would suggest the following additions to get even more out of your set.
1. Butterfly Pose for Meditation:
After doing exercises 2 (Yoga Rowing) add Butterfly Pose to your routine.  This will stretch your groin region and help you transmute sexual energy for higher purposes.  This pose will also be very beneficial in helping you sit cross legged for longer periods of time.
2. Yoga Rock-n-Roll (Exercise #6 from the Kids Yoga Poses Guide):
Use Yoga rock and roll to transition between poses, especially between the seated poses and standing poses.  This exercise helps distribute your cerebro-spinal fluid, massages your back and help extend and stretch your spine.  Great exercise to use for transitions.
4. Camel Pose for Optimum Health:
Camel Pose almost made this list and it is a great pose to include into your routine as well.  You can do it after Paschimothan Asana (Forward Bend) to enjoy the benefits of this terrific posture.
5. Shoulder Stand for Brain Fitness:

This set does not have a true inversion, although Plough Pose comes close.  To include an inverted posture to this set, I would suggest Should Stand.  The best place to put this in would be after Stretch Pose for Abs.
6. Boat Pose for Abdominal Strength:
Speaking of abdominal and core strength, just Yoga Stretch Pose may not be enough Navel Chakra work, as working on the abs is a very key aspect of good health and energy.  So adding Boat Pose or the entire Yoga Ab Execises to Tone Stomach to this set is not a bad idea.  You will find Boat Pose being demonstrated in the following video and it is Exercise #5 of that set (Core Abdominal Power Yoga Set).  I would suggest adding this to Yoga Stretch Pose's #4 slot.

7. Corpse Pose for Relaxation:
At the end of the set and anytime you tire in between, freely use corpse pose to rest and rejuvenate before moving ahead.  This pose is excellent to help the body assimilate the gains from the previous exercises and also, it is a great technique to learn for relaxation and stress relief.
Finally, use the yoga tips from the article, 5 Simple Yoga Tips to put the final touches on your set and really take your practice to the highest level.  If you have yoga poses you love and have found helpful, please share that with us in the comments below so others can benefit as well.