More Free Yoga Postures | Yoga Bridge Pose for Strengthening Back
Yoga Strength Exercises

Free Lower Back Yoga Poses

Of all the different types of fitness exercises, yoga postures and poses are perhaps the best for helping to strengthen the back and help cure back problems and back pain.  In a future article, I am going to summarize for you, all the great yoga exercises for helping you get your back strong and healthy, but in this article today I am going to present you with a fantastic yoga pose, which is perhaps the best posture for targeting the back and lower back muscles.  It is called Yoga Bridge Pose and it will become a part of the Free Yoga Postures E-book hosted here on Mastery of Meditation and Yoga.
Yoga postures, not just help stretch the back, but there are also many great poses to help strengthen it.  Bridge pose is one of these.  Done regularly this pose will dramatically help strengthen your lower back and has a wide range of other excellent benefits as well.  These are summarized below in the how to practice bridge pose section.
One of the great things about yoga poses, is that single poses have multiple variations to them, which allow both beginners and advanced yogis to practice at a level suitable to their capacity.  Bridge pose is a great example of such a flexible pose, and below I have given you several variations to integrate into your practice.  All these variations carry the benefits of the pose and doing any of them is going to benefit your back and body.

As always, please check with your medical care provider before embarking on any fitness regiment, including yoga, and please read our Legal Disclaimer.  Also, please do follow the guidelines for practicing yoga that I have laid out in the following 2 documents.

Beginner's Guide to Yoga Practice
Guidelines for Kundalini Yoga Practice

Bridge pose is a fundamental yoga posture and is part of almost all types of yoga.  It is also an integral part of Kundalini Yoga, thus it will also be added to our ongoing Free Online Kundalini Yoga Poses e-book.   
For those who are regular readers of the blog, you will know that one variation of Bridge Pose has already been presented as part of previous yoga sets.  The easy version of this pose is part of the very popular Free Yoga Exercises for Beginners | Morning Wake-up Series and also, Free Kids Yoga Postures and Poses.  In both those sets, it fills the need for strengthening and healing your back and body.    
Below you will find illustrations of Bridge Pose, along with practice details, benefits, cautions and other related information.  I hope you enjoy and benefit from this pose and stay tuned for more free yoga postures coming soon.
Yoga Bridge Pose for Back
Direct Link to YouTube Video –> Yoga Bridge Posture for Back Strength
Free Yoga Posture for Back – Bridge Pose



Illustrations of Bridge Pose




Bridge Pose for Strengthening Back – Illustration #1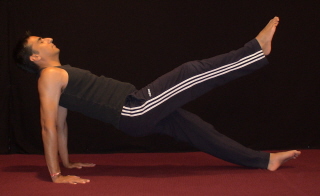 Free Yoga Posture – Advanced Bridge Pose Illustration #2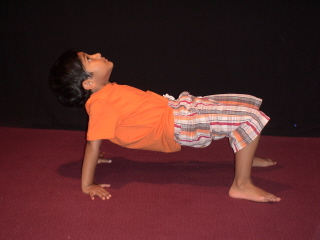 Free Yoga Posture – Easy Bridge Pose Variation – Illustration #3

Free Yoga Posture – Yoga Bridge Pose for Strong Back:
A. How to Do Bridge Pose: 

For the basic bridge pose, stretch your legs forwards and place your hands directly under your shoulders.
Then raise your butt and torso up off the ground have it make a straight line all the way through to the top of your head.  The final posture is shown above in illustration #1.



Hold this posture doing Breath of Fire or Long Deep Breathing.  You will feel it working your lower back, arms, shoulders, neck and hamstrings.
Advanced Yoga Bridge Posture – Illustration #2:  In illustration #2 above I have shown an advanced variation of this posture.  Here you raise one leg up keeping it straight, while balancing yourself on the other leg.  Switch legs between rounds.  This pose will be tougher on the lower back and hamstrings, and only practice it when you feel good and ready.
Beginner's Yoga Bridge Posture – Illustration #3:  As I mentioned above, even the easy variation to Bridge Pose will be excellent for you back and body, so don't worry if need to do bridge pose as demonstrated above by my son Shivum in Illustration #3.  This variation is also excellent for you.  Here you have your knees bent at 90 degrees and are balancing on your hands and feet.  In this posture, to really work your lower back, thrust your hips high into the air, so your torso is parallel to the ground.
Bridge Pose with Movement Variation:  Kundalini, Flow and Power Yogis know that using movement can often enhance the benefits of a particular posture, and that is certainly the case with Bridge Pose.  To really have bridge pose work your back, arms and legs, raise yourself up and down for the duration of the exercise.  So from the starting position, you want to come into bridge pose, and then lower yourself to the floor and then come into the pose again.  This movement can be done for the easy or full version of bridge pose.

B. Duration for Bridge Pose:15 seconds – 3 minutes.

C. Benefits of Bridge Pose: 
Excellent for strengthening the lower back.


Helps to stretch the lower back and alleviate lower back pain.

Good for the immune, digestive and reproductive systems.


Strengthens the arms, legs and shoulders.

Good for your back and spine.
D. Practice Tips and Cautions for Bridge Posture:
There are even more variations to bridge pose.  One is with fingers pointing back instead of forward and reaching up as far as possible with your hips, thus arcing your back up.  Another is letting your head drop back to stretch the neck.  Finally, you can also push your feet down towards the floor.  All these variations are valid and useful.
If you have back problems, it is very important to progress slowly with these postures and exercises.  The back needs to be strengthened over time so it can regain its health and flexibility.  It is best to work with a yoga teacher when using yoga postures to deal with difficult back issues.

Some strength is required to practice bridge pose, so make sure you work your way up gently if you are weak or unfit.
Stay tuned for a free comprehensive guide of yoga postures for strengthening your back and helping you cure lower back pain and back problems.