Terrific Post Natal Yoga Exercise for Weight Loss and Toning
Post Natal Exercise to Lose Weight

Post Natal Yoga Workout
In continuing the mission to create the most comprehensive, free yoga website out there, it is time to expand into the areas of prenatal, pregnancy and post natal yoga, and provide you with yoga exercises known to be very helpful during these phases of childbirth.  My wife, Trupti, is a certified pre/post natal yoga teacher and she will be helping create many of the workouts that I will be publishing here in the next few weeks.

If you are planning to have a baby, there are already some excellent resources for you on the website, in the form of nutritional and planning advise in the following 2 articles:  Ayurvedic Diet and Nutrition for Making Healthy Babies and How to Make a Baby the Right Way With Illustrations.  At mentioned above, in the near future I will be publishing specific sets for pre-pregnancy and pregnancy.  The post natal exercise I will detail today will undoubtedly be part of a post natal yoga set as well.
These sets will become part of the Free Online Yoga Sets that are hosted here on the website, and the exercises will be integrated into the  Online Kundalini Yoga Exercises e-book and the Hatha Yoga Galleries.  In addition, be on the lookout for complete pre and post natal yoga classes that will be coming to the Free Online Yoga Classes that we offer on the website.
The yoga exercise in this article (Tiger Pose), is good to incorporate into any general yoga routine as it has a wide range of excellent benefits, but it is specifically good for women after giving birth as it works on many troublesome post pregnancy fitness issues.  This exercise helps with lower back pain, rejuvenating female sexual organs, as well as weight loss, so it's perfect for getting your body back in shape after giving birth.
Of course, you should not begin any post natal exercise or workout routine, until you have the green light from your doctor and please, as always, follow the guidelines for yoga I have laid out in the following documents…

Beginner's Guide to Yoga Practice
Guidelines for Kundalini Yoga Practice
Below you will find full details of the exercise, including illustrations, step-by-step instructions, cautions, benefits and practice tips.

Post Natal Yoga Exercise

Illustrations for Yoga Tiger Pose



Illustration #1 – Tiger Pose Starting Position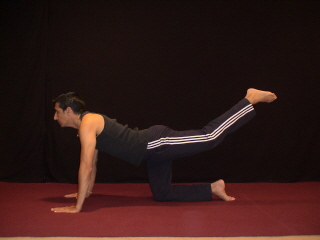 Illustration #2 – Tiger Pose Ending Position

Post Natal Yoga Exercise:
A. How to Tiger Pose for Post Natal Weight Loss and More: 

Start on your hands and knees, with your hands directly underneath your shoulders and your knees directly underneath your hips

.  Then lift your left knee up and swing your knee in towards your chest.  At the same time bring your head down and your chin towards your chest.  Your back will arch up.  Exhale as you come into this position.  This pose is shown in illustration #1 above. 

From this pose, smoothly swing your leg back and up and at the same time raise your head up.  Your back will arch down.  Inhale as you come into position.  It is shown in illustration #2 above.  You will feel this movement stretching your abdominal area, hips, legs and lower back.  Working on all the regions that need help after giving birth .  Also, it is this stretching movement which gives this exercise it's special name, Tiger Pose, for it is the stretch that tiger's do after rising from rest. 

Continue to swing your leg back and forth along with the rest of the movement for half the duration of the workout.  Then switch to the other leg and continue for the rest of the time

.  Take a break between legs if needed.
B. Duration for Post Natal Yoga Exercises: 15 seconds – 3 minutes / side.

C. Benefits of Tiger Pose:
Excellent exercise for stretching and strengthening the lower back.

Good for stretching the hamstrings and sciatic nerve.

Helps with weight loss and burning fat.

Helps to tone the hips, thighs and hamstrings.

Strengthens the arms and shoulders.


Tones the female reproductive organs.

Helps improve the digestive system.

Good for your entire spine and back.

D. Practice Tips and Cautions for Yoga Ab Crunches:
As your body is recovering from a big event, child birth, be gentle it.  Don't over strain.  Start doing the movements gently only at first and as you feel yourself getting more fit, do the exercise with greater vigor.

Make sure you incorporate the breathing into the exercise.  That will help your respiratory system as well.

Be sure to take breaks when necessary.

You can also hold the pose at the 2 extremes as a variation to this exercise.

More Yoga Exercises and Workouts:
Some exercises that are similar to Tiger Pose and can help with post natal fitness and weight loss as well are…
Cat Cow Yoga Pose for Emotional Balance