Basic Yoga Poses for Weight Loss – Part 2
Basic Yoga for Weight Loss
Lose Weight with Effective Yoga Exercises

In part 1 of this series on Best Yoga for Weight Loss, I answered the question, Can You and How to Lose Weight with Yoga?  I hope that article has motivated you to take up yoga to help you achieve your weight loss goals safely and naturally.  In this part the series, I am going to start detailing for you the basic, but effective, yoga poses for helping you lose weight and get healthy.
Also, as I mentioned in part 1 there is a great weight loss yoga set already on the website and you can find that set here: Online Yoga Exercises for Healthy Weight Loss.  This set has helped many successfully lose weight and you will find their testimonials in the comments section of the article as well.  To further inspire you to take up yoga for weight loss, here is one of the latest comments from a reader.
Kelly writes:

I love you!!! haha you have helped me drop the 20 lbs that kept me from being ME!

thankyou!!

Basic Yoga Exercises for Weight Loss Overview:
So, given I already have such a great weight loss set on the site, why create another one?  There are 2 reasons for this.
1. New Set is Suitable for Everyone:
Although the Yoga for Healthy Weight Loss set is comprised of fairly simple yoga exercises, they do require some degree of fitness to practice.  In other words, if you are badly out of shape you will find that set more challenging to do.  For this reason I want to give you the Best Basic Yoga Exercises for Weight Loss set, as this set can be done by even those struggling with obesity and significant excess weight.
In addition, many new moms contact me to help them realize their weight loss goals, and it is important for them to practice gentle yoga exercises as opposed to vigorous ones, until they are fully healed.  So this set will give them a nice option to begin working towards getting back in shape as well

.
2. Variety Helps Fitness:
Those familiar with health and fitness sciences know that the body get acclimatized to exercise routines, and you tend to get diminishing returns over time.  So varying your exercise routines is good for promoting better muscle and overall fitness.  This new set will give you that variety.  In addition, of course, there are many more excellent sets in the Free Online Yoga Sets E-book, so do check those out as well to add to your routines.
How to Practice Yoga for Weight Loss:
Before I jump into the set please remember it is important to follow the guidelines for yoga that I have put together in the following 2 articles: 10 Important Guidelines for Kundalini Yoga Practice and Essential Beginner's Guide to Yoga Practice.  Also, please read the disclaimer (Ask your doctor, don't sue me, etc. etc. 

).

Each yoga pose and exercise below has a link to the document with all the details about that technique, so you can read more about it by heading over to that article.  These poses and exercises are from across both great schools of yoga, hatha yoga as well as kundalini yoga, and you will find many of them used in the yoga sets and free online yoga classes that are offered here on the blog as well.  Also, I will be putting together another free online weight loss class as well, which will incorporate this set.
The way I want you to approach this set is as follows:
If you are very out of shape or obese, just start with the first 2 exercises for the first week.  Then move ahead and keep adding the following 2 exercises every week, till you are doing the entire set.  For those is better shape you can start with 4 or more exercises, as per your level, and keep adding the ones further down in time. 
So if you are obese, do exercises 1 and 2 for week 1; then do exercises 1, 2, 3 and 4 for week 2; then do exercises 1, 2, 3, 4, 5, 6 for week 3 and so on till you are doing the entire set.

Make sure you don't over strain, and just keep at it consistently.  Again, let me remind you this set is comprised of yoga poses that have proven to be excellent for weight loss if done consistently over time.
You should be aiming to lose about 5 pounds per month.  This rate is very comfortable for the body and when lost in this gentle and safe manner, you will find that your body weight set point has realigned itself, and that with just a healthy diet you can keep the weight off (see part 1 for more on this).  In addition, to the weight loss you will also find yourself much healthier, happier and holier

.
In this part of the series I am going to give you the first 4 exercises of the basic yoga poses for weight loss set, then I will complete the set and series in part 3.  Below, are the details for these exercises. 
Basic Yoga Set for Weight Loss:
Weight Loss Yoga Exercise #1:
Yoga Single Leg Rotations:
The first exercise is from the popular video Core Abdominal Power Yoga Set and are the Single Leg Rotations.  The video is below for you as well, but I have also given you exercise details below that.  The first place to start a fitness routine is by strengthening the abdominal muscles and building your core strength.  This workout for the first week or two will prepare your body nicely for the rest of the weight loss exercises to come.

Core Abdominal Power Yoga Set
Demonstration of the Single Leg Rotations
1. Single Leg Rotations Kundalini Yoga Exercise:  (Chakra Padasana)
a. Guided Instructions for Single Leg Rotations:
Lie flat on your back.


Raise your right leg up to about 45 degrees.

Point your feet and toes away from you.

Begin the Breath of Fire Breathing Exercise and keeping your leg straight rotate it in a big circle clockwise. 

Make the circle as big as you can without touching the floor.

Do 2-10 rotations in 1 direction and then without resting rotate the same leg in the other direction (counter-clockwise).

Repeat with the left leg.
b. Duration: You can build up to 1 minute / leg.  You can start with 2-4 rotations per leg, per direction and build up from there.

c. Benefits:
Builds your Navel Center and strengthens and tones your abdominal muscles.

Builds willpower and strength of character.

Loosens and opens up the hips. 

d. Practice Tips: 
To modify the exercise bend you knees or do fewer rotations at a stretch.

Start with just normal breathing and only incorporate Breath of Fire once you feel ready.


You can also take rest as needed.
Basic Yoga Exercise #2 – Kundalini Yoga Stretch Pose:
In case you thought you were done with the ab work, sorry you need to do another stomach exercise as well to ensure we get your back and core muscles strengthened

.  So after you do your Single Leg Rotations, take a short break and then do Kundalini Yoga Stretch Pose as described in that article.
Please feel free to use the single leg modification of this exercise as described in the article.  Also, you can take multiple breaks in between.  Try to complete 1 minute, by taking as many as 4-8 breaks in between as necessary.

Kundalini Yoga Stretch Pose Illustration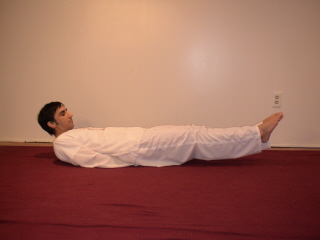 Weight Loss Yoga Pose #3 – Bhujanga Asana:
The next exercise that you should move onto is the famous Cobra Pose for Healthy Back.  This will start to work on your arms, shoulders and back, as well as other important body systems and internal organs.
Again, take breaks coming in and out of this pose.  For the purpose of this set, start with the version where you come into the raised position and hold it for some time.  Later as you get more fit, you can do the cobra push-ups, where you go up and down in cobra pose.  
Start with 4 rounds of 10-15 seconds each, and build up from there.

Cobra Pose Illustration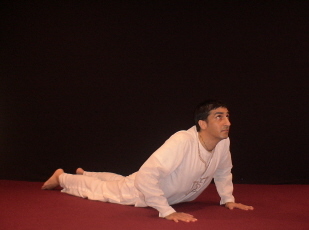 Weight Loss Basic Yoga Pose #4 – Locust Pose

Locust pose was recently added to our Online Hatha Yoga Picture Galleries, and just in time too, as it is needed for this set

.  The Classical Hatha Yoga Pose – Locust Pose article will give you all the details for this excellent posture.
Again, use the single leg variation for beginner's if you are just starting out and for the purpose of this set try to do 4 rounds, holding each round for 10-15 seconds each.  Build up from there.


Coming up in Part 3 of Best Yoga for Weight Loss Series:
In part 3 of this series I will complete the Basic Yoga Poses for Weight Loss set and put everything together for you, so you can employ this wonderful science to help you achieve your weight loss goals.