Surprising Meditation Survey Results: 90% of You Meditate
Survey Results: How Many Times a Week do You Meditate
Meditation Study
This past Monday, we ran our first survey on Mastery of Meditation & Yoga and am happy to report it all went very smooth, without any technical glitches (almost :-). The only issue was that those who receive my articles via email, did get the survey, although the text was mostly gibberish code. I will work on trying to fix that, but besides that all has gone very well with this new fun and exciting feature. Thanks to all of you who participated in this survey.

Here is the link to that original article: Survey: How Many Times a Week do you Meditate and today I will discuss the rather surprising results from this survey.
The survey asked a simple question to the readers, "How many times a week do you meditate?" and the choices were as follows…
Never
One to Two
Three to Four
Five to Six
Seven or More
Results of How Many Times a Week Do you Meditate? Survey:
Here are the results in terms of percentages:
Summary

| Value | Count | Percent % |
| --- | --- | --- |
| Seven or more | 16 | 35.56% |
| Three four a week | 9 | 20.00% |
| One two a week | 8 | 17.78% |
| Five six a week | 7 | 15.56% |
| Never | 5 | 11.11% |
Here is a graph of the surprising results of How Many Times a Week do You Meditate?…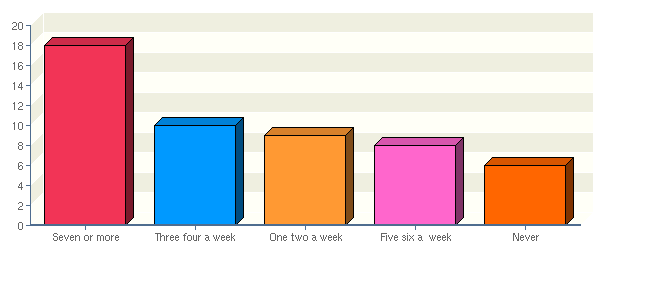 Survey Analysis & My Thoughts:
I must say that I am pleasantly surprised and encouraged by these results. They clearly show that amongst us are some pretty heavy duty meditators. In fact 35% of the respondents meditated seven or more times a week and overall, almost 90% of respondents meditated at least once a week or more. For those 11% who are yet to get started, I encourage you to begin right away.
The benefits of meditation are enormous and although one may not notice them immediately, they accumulate over time to create a life for you that is truly special. As Buddha and other wise teachers advise us, think long term, don't go for short term pleasures only, and meditation is a perfect example of applying this teaching. It, over time, brings precious physical, mental and spiritual treasures into your life, that simply cannot be attained any other way. Here are 3 articles to help you start and/or deepen your meditation practice…
To get inspired read…
Top 10 Profound Benefits of Meditation
To stop procrastinating and simply begin your practice, read…
The Golden Rule to Stop Excuses and Start Meditation Now
To learn meditation, join the following free online class…
Beginner's Meditation Class | Learn How to Meditate
Well that's it for now. Thanks to all of you who participated in this week's survey and I will have a new survey for us all to enjoy and learn from next week.