Popular Yoga Position for Nerve Strength
Hatha Yoga Pose for Nerve Strength

Kundalini Yoga Posture to Tone the Nervous System
In kundalini yoga, although muscle strength is desired and developed, it is not considered real strength.  Nerve strength is considered real strength and the following yoga position is ideal for developing this much coveted power.
The following pose is again common to both hatha yoga and kundalini yoga and thus, is a part of both the e-books that are available on Mastery of Meditation.  The Free Online Hatha Yoga Poses Galleries and the Free Illustrated Kundalini Yoga Poses E-Book.

This posture has many names to it as well.  In hatha yoga, it is called Mountain Pose, while in kundalini yoga it is called Triangle Pose.  The pose is also commonly called Downward Facing Dog, which I will refer to it as.

In kundalini yoga, you might have noticed, I am always emphasizing building the health and fitness of the internal systems first and then allowing the greater flow of kundalini to take place.  This is opposed to directly opening the chakra points and forcing an increased flow of energy.  This approach, of building the system up and then allowing energy flow to increase, helps prevent problems with premature kundalini eruptions, as the body, especially the nervous system, is now able to handle the greater flow of energy without getting fried.
You can read the 10 Important Guidelines for Kundalini Yoga Practice and the following 2 articles for more details on how best to approach and practice kundalini yoga: Introduction to Kundailni Yoga and Kundalini Seven Chakra System Overview.  In addition, the following article discusses similar concepts:  The Top 3 Chakra Meditation Techniques.
Below you will find an illustration of hatha yoga Mountain Pose and details regarding this important yoga position.

Hatha Yoga Mountain Pose for Nerve Strength

Picture of Hatha Yoga Mountain Pose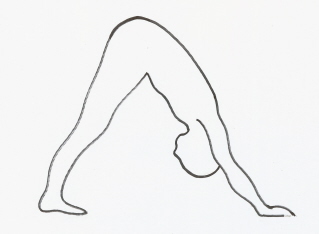 Hatha Yoga Mountain Pose Practice Details:
a. Step-by-Step Instructions for Yoga Downward Facing Dog Position:
Essentially you are making an inverted V as shown above in the illustration.

Make sure you press your heels down towards the floor and press your head down towards the knees.

Your legs are parallel and knees locked and your arms are parallel with your elbows locked.

Press up with you buttocks to elongate both sides of this triangle.

b. Duration for Yoga Downward Facing Dog Position:
c. Benefits of Yoga Downward Facing Dog Position:
Excellent yoga position to strengthen and build your nervous system.  Develops the nerves throughout your entire body, with extra focus on the arms, legs and spine.


This yoga pose also build arm strength and leg strength.

It promotes flexibility in the hamstrings, cavles, forearms and shoulders.

Good for the digestive system and overall energy of the body.
d. Practice Tips for Yoga Downward Facing Dog Position:
Take breaks in between if you are not strong enough to hold this position for prolonged periods of time.  Slowly as your arm strength increases, increase the time for the pose.

Use a mirror or have a picture taken of you while in this position, as that will really help you in mastering this pose.

It is good to stretch the shoulder first, before practicing this yoga posture.

Online Kundalini Yoga Kriyas Using Mountain Pose:
(Coming Soon).