Best Hatha Yoga Pose for Spontaneous Healing
Hatha Yoga Pose for Health & Healing

Kundalini Yoga Posture for Self Healing
If you decide that you are going to do just one hatha yoga pose a day, I would tell you to choose this one.  It is called Paschimothan Asana, or simply The Forward Bend.  This terrific posture also goes by some other names, such as Seated Head to Toe Pose and Back Stretching Pose. 
This pose is also a key component of kundalini yoga and according to kundalini Yoga, it is a fundamental stretch that you should perform every single day.  As this pose is part of both hatha yoga and kundalini yoga, it is part of both e-books, Free Online Hatha Yoga Poses Galleries and the Free Illustrated Kundalini Yoga Poses E-Book.

In hatha yoga, this yoga asana can be categorized as both, a forward bending posture or a seated posture.
The reason why this pose is so highly recommended, is because when it comes to healing and longevity, no other posture is as effective.  Spontaneous healing, miraculous healing, conscious healing have all been attributed to doing Paschimothan Asana.  And, as if that was not enough, this pose also has other important health benefits, which are detailed below the illustration.

Thanks to my wife Trupti for the following fine illustration of Back Stretching Pose.  Yes, I managed to tear her away briefly from the children to help with the blog again.  You will find her singing contribution in the article, The Greatest Vedic Devotional Mantra, and below I got her to put her artistic skills to good use as well… in exchange, of course, for doing innumerable house hold chores and changing dirty diapers… so I hope you all appreciate the effort here :-D.
Back Stretching Pose for Health & Healing

Picture of Hatha Yoga Back Stretching Pose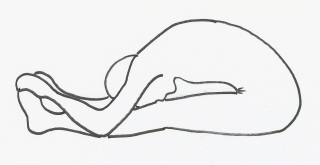 Hatha Yoga Back Stretching Pose Practice Details:
a. Step-by-Step Instructions for Hatha Yoga Back Stretching Pose:
Sit with both legs extended straight in front of yo

u.

Make sure the legs are parallel and feet pointing straight up.

Reach forward with your hands and hold onto your legs as low as possible without bending the knees.

If you can hold your toes that's great, if not, arch them back towards you while holding your shins, knees or thighs.  This will ensure you are stretching the calves and nerves.

As you reach towards your feet, ensure you are bending from the waist and try to keep the back as straight as possible.  Try to bring the forehead to the knees if possible. 
b. Duration for Hatha Yoga Back Stretching Pose:
c. Benefits of Hatha Yoga Back Stretching Pose:
Excellent yoga pose to promote natural and spontaneous healing.

Bestows health and longevity.

Expands your entire nervous system, especially stretching the sciatic nerve, whose length, according to kundalini yoga, is directly related to the length of your life.

The asana also promotes flexibility and strength in the hamstrings and calves.


The pose stretches the entire back, with emphasis on the lumbar spine.

Excellent posture to tone and rejuvenate the entire digestive system and all the important digestive organs.  The liver, spleen, pancreas, kidneys, intestines, stomach all benefit from this pose.

Helps fight obesity.

Helps dissolve blockages that run along the shushumna (primary psychic channel for the flow of prana and kundalini.  For more on this topic, see Kundalini Seven Chakra System Overview).
d. Practice Tips for Hatha Yoga Back Stretching Pose:
Do not strain excessively when doing this stretch.  When doing the pose, start off stretching gently and as your body gets warmed up, extend the stretch further.

Try not to hunch over as much, instead try to concentrate of bending forward from the hips.


As a variation to holding your toes, you can instead hold your big toes only and pull back on them.

I

t is MUCH more important to keep your legs straight, than it is to reach your toes.

Try to keep the back as straight as possible.

As an additional chakra breathing meditation for this pose, as you inhale feel or visualize energy being drawn in from the soles of your feet, up along the back of your legs to the base of your spine, and then as your exhale, visualize the energy passing up the center of the spine and then out through the crown of your head.  Continue to do long deep breathing is this manner as you hold the pose.

Online Kundalini Yoga Kriyas Using Back Stretching Pose:
(Coming Soon).