Important Hatha Yoga Posture for October Practice
Hatha Yoga Posture

Improving Your Yoga Practice

The way to improving your yoga practice, regardless of whether it is Hatha Yoga postures or Kundalini Yoga exercises is practice, practice, practice.  In August we started the Learn Yoga | Yoga Asana Challenge of the Month inspired by my friend Ashish, and began the series with the terrific Nauk Asana (Boat Pose).  This is one of the best poses for developing your core strength and building your abs.  Congratulations to Ashish for building this difficult pose up to 1.5 mins, after starting out at like 15 seconds

.  Then in September, we had the tough Frog Pose (Yoga Pose for Your Thighs), which is great for toning your thighs and buttocks, and now for October I would like to change the tone slightly and move from a strength based posture to one that focuses more on flexibility.  So for the month of October, the yoga pose challenge is going to be the important Forward Bending Hatha Yoga Posture.

For those new to this yoga pose for the month challenge series, here are a few quick words regarding what it is all about.  Essentially, the idea is for us all to include a particular pose into our practice and then report back our thoughts and progress with that posture throughout the month.  The goal is to learn a great technique together, and experience and enjoy the benefits of that exercise.  Now onto our yoga posture for October.
October Hatha Yoga Posture – Forward Bend (Paschimothan Asana)
:
The one yoga asana that your practice must include is Hatha Yoga's Forward Bending Pose.  It is perhaps the most important Hatha Yoga Pose, as it bestows the benefits of health, healing and longevity and dramatically improves the flexibility of your entire body.  This is a pose that everyone can do and one that everyone should do.  All my classes include this posture in the warm-up period, as does my personal practice.  You can get all the details for this wonderful technique in the full article for the pose (Best Hatha Yoga Pose for Healing) so please do read that and also, please follow the Guidelines for Yoga Practice.

Benefits of Yoga Forward Bending Pose:
Excellent yoga posture to promote natural and spontaneous healing.

Bestows health and longevity.

Expands your entire nervous system, especially stretching the sciatic nerve, whose length, as per yogic science, is directly related to the length of your life.

The posture also promotes flexibility and strength in the hamstrings and calves.


It stretches the entire back, with emphasis on the lumbar spine.

Excellent posture to tone and rejuvenate the entire digestive system and all the important digestive organs.  The liver, spleen, pancreas, kidneys, intestines, stomach all benefit from this pose.

Helps fight obesity.

Helps dissolve blockages that run along the shushumna (primary psychic channel for the flow of prana and kundalini.  For more on this topic, see Kundalini Seven Chakra System Overview).
Warning for Hatha Yoga Forward Bending Posture:
I read an article once where they interviewed an accomplished yoga teacher in her house.  During the interview she wanted to do something impressive, so spontaneously she did a standing split, by putting one leg up against the wall vertically while standing up.  She immediately tore her hamstrings and had to suppress her pain during the rest of the interview to not give away her stupidity.  This is what I don't want you to do.  With regard to stretching postures, make sure you stretch GENTLY and warm up before stretching.  You are much less likely to injure yourself when the muscles and tendons are warmed up prior to stretching. 
So with regard to this pose, you do not need to mirror the illustration below.  Just reach down as far as you can towards you toes, trying to keep you back and legs straight, and slowly your flexibility will improve.  Before you know it, one day you will be holding your toes, with your legs straight and a big smile on your face (just ask my Mom

).

Below is an illustration for this key Hatha Yoga pose.  Please do participate if you can.  The more the merrier

.
Hatha Yoga Forward Bend Posture Illustration: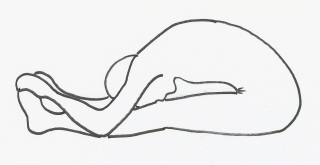 Looking forward to hearing about your progress, thoughts and experiences.