Yoga Practice Pose for September | Yoga for Thighs
Yoga Practice Challenge for the Month
Improving Your Yoga Practice
Last month we started the Learn Yoga | Yoga Asana Challenge of the Month series to help you improve your yoga practice and benefit from various yoga poses.  Our August pose was the terrific Nauk Asana (Boat Pose) which is one of the best asanas for developing your abdominal muscles and strengthening your core.  September's pose you will find is no slouch either, as this excellent Kundalini Yoga exercise is great for developing your lower body strength and improving your level of fitness and health.  It is the famous Frog Pose.
Before jumping ahead to the pose for this month, let me give you a quick summary of what the yoga challenge of the month is and how it works.  Essentially, the idea is for us all to include a particular asana into our yoga practice and then to report back our thoughts and progress with that pose throughout the month.  The goal is to learn a great pose together, and experience and enjoy the benefits of that pose.  Now onto our yoga exercise for September.
September Yoga Practice Pose – Frog Pose:
Just like Boat Pose surprised many yogis with just how tough it actually was, Frog Pose is another such simple looking exercise which is not quite a easy as it looks.  Just like Boat Pose though, this exercise is excellent for the region it targets, and doing it regularly will reap you absolutely wonderful rewards.  Here is the link to the original article for Frog Pose (in green large text below), and below are some practice details for you.  Please do read the full article for the pose for all the information and also, please follow the Guidelines for Yoga Practice.

Benefits of Frog Pose:
Shapes, tones and strengthens the legs and lower body.  Specially the thighs muscles.

Builds the cardiovascular system and respiratory system.  Promoting better circulation and better respiration.


Promotes flexibility in the hamstrings and calves.

Overall, builds one level of fitness and endurance.

Builds sexual potency and virility.
Yoga Practice Details for Frog Pose:
All students should be careful with their knees when doing this exercise and only go down as far as comfortable.  Also, be careful about getting dizzy as this exercise will get your heart rate up in a hurry.  Finally, here are the number of repetitions I recommend depending on your level:
Beginner Yogis:       Work your way up to 26 repetitions.

Intermediate Yogis: Work your way up to 54 repetitions.

Advanced Yogis:      Try to do 108 repetitions.

Here are illustrations for this exercise.  Please do participate if you can.  The more the merrier

.
Yoga Practice Illustrations for Frog Pose: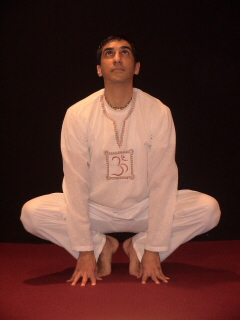 Yoga Frog Pose Starting Position – Illustration #1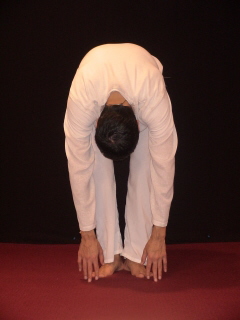 Yoga Frog Pose Ending Position – Illustration #2
Looking forward to hearing about your progress, thoughts and experiences.