Illustrated Kundalini Yoga Stretch Pose for Core Abdominal Power
Summary: The famous Kundalini Yoga Stretch Pose is detailed and illustrated in this first entry in the new Free Online Illustrated Kundalini Yoga Poses & Exercises E-Book.  Pictures of both, the normal pose and beginner version of this yoga posture are provided, along with practice details, benefits, tips and instructions.
Yoga Pose Core Abdominal Power
Illustrated Kundalini Yoga Pose #1 
The very first kundalini yoga pose from the Free Online Illustrated Kundalini Yoga Poses & Exercises E-Book will be the powerful Stretch Pose.  This yoga pose is a frequent entry in many Kundalini Yoga kriyas, especially those that deal with opening, healing and balancing the important navel chakra, the third chakra of the kundalini yoga seven chakra system responsible for your abdominal region.

Early in your kundalini yoga practice, it is important to focus on the abdominal area.  This is because strengthening your navel center will, not only give you important core energy to develop your yoga practice, but will also help build your character and willpower, which are essential for a long term consistent, fruitful practice.
Below, you will find 2 illustrations of kundalini yoga stretch pose, the first is the normal pose, and it is followed by an illustration of the modified version of stretch pose.  You can also switch back and forth between the two poses, as you develop your abdominal strength.  Below that are practice details and instructions for this most important kundalini yoga exercise.  Also, provided are the online Kundalini Yoga Kriyas which use this posture.
Picture of Kundalini Yoga Stretch Pose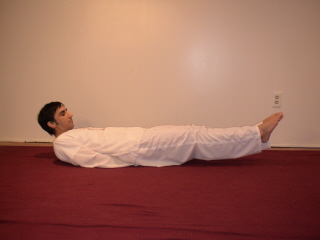 Picture of Beginner Kundalini Yoga Stretch Pose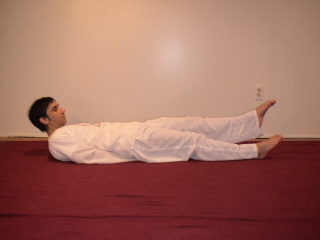 Kundalini Yoga Stretch Pose Practice Details:
a. Instructions for Kundalini Yoga Stretch Pose:
Lie on your back.

Place your hands under your buttocks palms facing down (to support your lower back).

Raise your heels 6 inches, point your feet and toes away from you, raise your head slightly and stare at your toes.  You will feel the abdominal muscles go to work immediately.

b. Duration for Kundalini Yoga Stretch Pose: 15 seconds -11 minutes.
c. Benefits of Kundalini Yoga Stretch Pose:
Builds abdominal strength.

Increases core energy and power.

Helps develop the much coveted 6 pack abs.


Opens, heals and balances the Manipura Chakra (aka. Nabhi Chakra, Navel Chakra, Solar Plexus Chakra) which is the seat of willpower.  It is recommended to build this center early in your Yoga practice as it will give you the strength and character to see things through.

Improves your digestive system.

d. Practice Tips for Kundalini Yoga Stretch Pose:
To modify this pose you can do this posture with your legs bent at the knees, or do one leg at a time.  Either way you will reduce the pressure on the abdominal muscles.


Be careful with your lower back when practicing this pose, roll more of your arms underneath you to help give it more support.
Online Kundalini Yoga Kriyas Using Stretch Pose:
Kundalini Yoga Morning Wake-up Series

: Excellent quick kundalini yoga set for an overall workout.