Kundalini Yoga Exercise for Overcoming Deep Seated Fears
Kundalini Yoga for Overcoming Fears
No Fear of Death & Fearlessness
A great thing about Kundalini Yoga exercises, is that sometimes the same exercise has some nice variations which can help one accomplish a wide range of goals.  Some of these variations come in the form of simply a different breathing pattern, which allows for different effects to be achieved.
Last week I added the sixteenth exercise to the Free Online Kundalini Yoga Exercises E-book, the simple yet wonderful Cat-Cow Kundalini Yoga Exercise for Emotional Health.  This beneficial exercise is in itself worth incorporating into a daily yoga routine, and done with the variation below, it can also be a valuable technique for fighting deep seated fears, including the ultimate fear of death.  It helps build in one no fear and fearlessness.

Yoga for Fighting Fears Video

DIRECT YOUTUBE LINK –> SIMPLE YOGA FOR SPINE AND DIGESTION

Kundalini Yoga Cat Pose for Fighting Fear
Illustration #1: Kundalini Yoga Cat Pose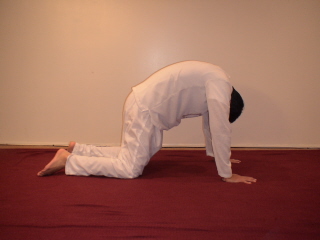 Fear Fighting Yoga Cat Technique Practice Details:
a. Step-by-Step Instructions for Fear Fighting Cat Technique:
Come onto the floor on all fours.  Make sure your hands are directly under your shoulders, about shoulder width apart and knees are directly under your hips, about hip distance apart.

Next bring your head down and your chin towards your chest as you arch your back up like a cat (pressing your stomach up as in illustration #1).

After coming into cat pose inhale fully then EXHALE and HOLD YOUR BREATH OUT.  With your breath held out, start to pump your stomach as many times as you can at about 1 pump a second or a little faster.  Pumping your stomach means to pull/suck in your stomach front wall towards your spine and then releasing it.  You can see this aspect of the exercise in the following video as well Infinite Energy & Prosperity Meditation Technique.
Do as many pumps as you can with your breath held out and then take a deep inhalation, then exhale completely once more and repeat the cycle.  Do as many cycles as you like.

b. Duration for Fear Fighting Cat Technique:
c. Benefits of Fear Fighting Cat Technique:
Helps fight fears and clears the diaphragm and abdominal region of emotional garbage.

Very good for the digestive system.


It helps expand and build the nervous system.

When the exhale/pump phase is done for longer periods of time, it can help one fight the fear of death and build in one great courage and fearlessness.

d. Practice Tips for Fear Fighting Cat Technique:
Initially do not overdo this exercise.  Only hold your breath out for as long as comfortable.

Once you feel stronger and confident, hold your breath and try to stay relaxed even as panic comes to the system due to breath deprivation.  Please be intelligent and use common sense here and DO NOT push too much.

Incorporate this exercise at the end of doing Cat-Cow.  It is an easy way to build it into your daily practice
Online Kundalini Yoga Kriyas Using Fear Fighting Cat Pose:
Spinal Warm-up Kundalini Yoga Kriya 

(uses Cat-Cow).