Kundalini Yoga Frog Pose for Eternally Toned Legs
Kundalini Yoga Frog Pose for Perfect Legs

Yoga Exercise to Tone & Strengthen Thighs
Want to have toned, strong legs right through life?  If so, this Kundalini Yoga exercise is just what the doctor ordered.  The famous kundalini yoga frog pose.
Kundalini yoga frog pose is a hardcore kundalini yoga exercise, that is quite unique to this type of yoga and it will be the next entry in our  Free Online Illustrated Kundalini Yoga Poses and Exercises E-Book.  
Certainly, frog pose is fantastic for building lower body strength, and specially good for shaping the legs and thighs, but at the same time this exercise is also indicated for working on the heart chakra and the associated functions of that region.  The health of the heart, respiration and overall circulation are all improved by practicing frog pose.
Although some flexibility in the hamstrings helps one to practice froggies, this exercise is primarily a strength move.  You will find lots of important details in the practice section below the illustrations.  Be ready for a workout!
Kundalini Yoga Frog Pose for Toning the Legs

Picture of Starting Position of Yoga Frog Pose (Eyes Closed)

 
Picture of Starting Position of Yoga Frog Pose (Eyes Open)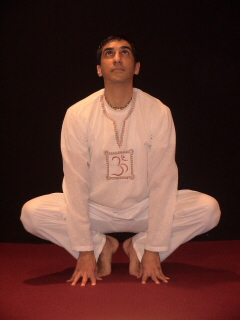 Picture of Ending Position for Yoga Frog Pose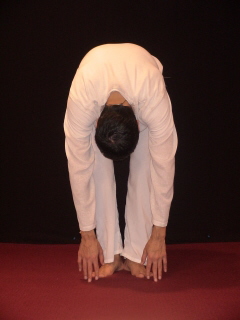 Kundalini Yoga Frog Pose Practice Details:
a. Step-by-Step Instructions for Kundalini Yoga Frog Pose:
Squat on the floor on your toes, with your feet apart and your heels either touching or very close together.

Have your knees spread out and your arms inside your knees with your finger tips touching the floor.  The elbows are straight.


Look up, you can have your eyes opened or closed.  Inhale.  This is the starting position for frog pose.




Rise up now by straightening your legs.  At the same time bring your head towards your knees and keep your fingers touching the floor.  Your heels should move down towards the floor.  Straighten your legs as much as possible.  Exhale.  This is the ending position for frog pose.  This completes 1 repetition.

Come back down to the starting position and repeat the cycle as many times as indicated.

b. Duration for Kundalini Yoga Frog Pose:
Beginners, start with as many as you can do and work up to 26 froggies.


Intermediates, work up to 54 froggies.

Advanced, work up to 108 froggies.

Fanatics, keep going :-).

c. Benefits of Kundalini Yoga Frog Pose:
Shapes, tones and strengthens the legs and lower body.  Specially the thighs muscles.

Builds the cardiovascular system and respiratory system.  Promoting better circulation and better respiration.


Promotes flexibility in the hamstrings and calves.

Overall, builds one level of fitness and endurance.

Builds sexual potency and virility.

d. Practice Tips for Kundalini Yoga Frog Pose:
Careful with your knees.  If you have bad knees, approach this exercise with caution.


Take breaks in between if your legs are burning too much.  Once they recover continue on.

This yoga exercise will get your heart rate up, so careful not to get dizzy.  If you feel breathless, light headed or faint, stop and take a break.

Here is a secret.  Doing froggies slowly is harder.  Some kundalini yoga kriyas (sets) demand you go slow, but in general a brisk pace will allow you to do more.  Just don't push too hard.

It is ok to be sore in the legs the next day.  It means the muscles got a much needed workout.

It is beneficial to stretch the hamstrings before doing frog pose.

Online Kundalini Yoga Kriyas Using Frog Pose:
(Coming Soon).