Excellent Kundalini Yoga Exercise to Improve Flexibility, Reproduction & Digestion
Kundalini Yoga Exercise for Flexibility

Yoga Pose to Help Reproduction & Digestion

Kundalini Yoga's Modified Wheel Pose is certainly an exercise worth including as part of your daily yoga routine.  It is an integral part of mine.  This exercise is called Kandhar Asana in Hatha Yoga and also goes by a few other names in various yoga circles.  Since it is often used as a modification to Wheel Pose (see Advanced Yoga Technique for Total Body Workout), and offers many of that position's benefits without the same degree of difficulty, I find the name Modified Wheel Pose most suitable for it.

Modified Wheel Pose, as mentioned above, is part of both Kundalini Yoga and Hatha Yoga and so here on Mastery of Meditation & Yoga, it will be part of the following 2 free online e-books: Free Hatha Yoga Poses & Free Online Kundalini Yoga Exercises.
One of the best aspects of Kundalini Yoga, and yoga practice in general, is the vast array of modifications that poses offer, so that almost all of us can do some variation of the posture and still enjoy many of the benefits that the exercise bestows.  Modified Wheel Pose is a perfect example of this.  Not only is it a modification of Full Wheel Pose, but it also has a modified version for those who are just beginning yoga and find the posture hard to come into.
Below I have given illustrations of both, the modified version of Modified Wheel Pose

and the full version of Modified Wheel Pose.  This yoga exercise offers many important benefits, such as increasing flexibility, promoting better digestion and toning female reproductive organs for improved function, and I discuss these in more details in the practice section below.

Kundalini Yoga Modified Wheel Pose

Illustration #1 Modification of Modified Wheel Pose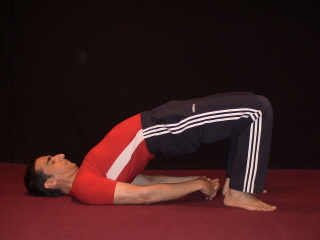 Illustration #2 Kundalini Yoga Modified Wheel Pose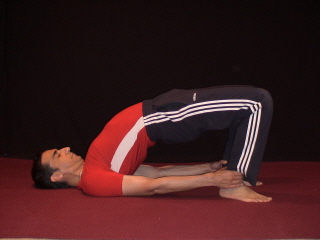 Kundalini Yoga Modified Wheel Pose:
a. Instructions for practicing Kundalini Yoga Modified Wheel Pose:

Start by lying on your back.  Have your feet hip distance apart and bring your heels up against your buttocks.

Reach forward with your arms and grasp you ankles.

Now raise your torso off the ground, by pushing up with you navel and hips.  You should feel a stretch in you upper thighs and in your back and spine.

Try to stretch up such that your chest nears your chin and you feel a good stretch in your lower back.  Continue to hold your ankles throughout and keep the feet flat on the floor.

Hold this position.  In the Kundalini Yoga version the eyes are closed (Illustration #2 above).  You can have them open or closed in the Hatha Yoga version.

Once you come into the final posture, either do Long Deep Breathing, or do Kundalini Yoga Breath of Fire.

b. Duration for Kundalini Yoga Modified Wheel Pose:
c. Benefits of Kundalini Yoga Modified Wheel Pose:
Excellent to build and increase flexibility of your back and spine.

Also promotes flexibility in your shoulders and upper thighs.

Stretches the entire abdominal region and helps improve your digestive system.

Stretches the female reproductive organs, massaging and toning them.  Improves conditions related to these organs.


Strengthens your legs and thighs.

Expands your respiratory system and improves lung capacity.

Activates and help heal the Vishuddhi Chakra (Throat Charka) and promotes healthy thyroid function.

d. Practice Tips for Kundalini Yoga Modified Wheel Pose:
Modified Version of Modified Wheel Pose:  If you find the full version of Modified Wheel Pose too difficult, I suggest starting with the modification to this exercise which is demonstrated in illustration #1 above.  In this modification, interlace your fingers as shown and push down against the floor with your arms as you thrust up with your hips and navel.  All else is the same as the full version, except that you don't grasp your ankles in the modified version.  This modified version will also bestow many of the same benefits and you can use it to slowly increase your flexibility and strength, until you can do the full version.

Be careful of you back, knees and neck when doing this pose.  Remember to not strain too much and slowly build up the pose to the full version.  Also, increase your time gradually and you can take breaks in between as well.
Online Kundalini Yoga Kriyas Using Modified Wheel Pose:
You can add Modified Wheel Pose to your yoga routine to help increase your flexibility, and improve your digestive and reproductive system.  Please use the article, 6 Guidelines on How to Create Yoga Sets to help guide you in doing this.