Powerful Yoga for Bulding Self Confidence | June Exercises
Courage and Self Esteem

Self Belief and Fearlessness

Self Confidence is a key, not just for success in manifestation, but also a key for making genuine spiritual progress.  We all know the important part confidence plays in ordinary life, allowing you to make great strides in your personal development, career, relationships, etc, but in the spiritual realm self confidence is equally important.  In the spiritual realm you have to have confidence in your ability to work your way through the illusion of duality and the ensuing suffering, and the self belief that you will be able to find your way out of the chaos.  At the end of day, as I have often said, enlightenment is a path walked alone.

So how can we build our self confidence?  What can we do to develop our courage and self belief so we can be fearless in our approach to life?  There are many methods and techniques for building this kind of confidence, and in this article I will give you some yoga and meditation approaches to achieve this goal.

These techniques for building self confidence will be the yoga poses for the month of June and will be part of our yoga practice for the month series.  For those who are new to the blog, each month we practice together a particular yoga exercise, pranayama technique and meditation, in order to enhance our skills and learn from each other.  We share our experiences in the comments section below as well.  So join us this month and experience the burst in confidence that this month's techniques will produce.

These techniques come from the following 3 free online e-books here on Mastery of Meditation and Yoga.  These are the Free Online Kundalini Yoga Exercises E-book, the Free Online Guided Meditation Techniques E-book and the Free Online Yoga Breathing Exercises E-book.  Feel free to check them out for more great exercises and meditation to keep you healthy, happy and fit.

Below you will find all the exercises and meditations that we have practiced so far in this Yoga for the Month Series.  Following that are the confidence building techniques for June.
Yoga Exercises for Each Month
August:        Learn Yoga | Nauk Asana for the Month (Abs)
September:  Yoga Pose for Thighs – Frog Pose (Thighs/Butt)
October:      Important Hatha Yoga Posture for Healing – Forward Bend (Thighs/Buttocks)
November:   Yoga to Work on Your Aura (Aura and Magnetic Field)

December:   Kundalini Yoga Exercise for Emotional Health – Cat-Cow  (Back and Emotional Balance)
February:    Daily Yoga Cobra Pose for Healthy Back

March:         Yoga Moves to Detox Your Body

April:           Yoga Ab Workout Routine and Free Exercise Videos
May:            Yoga Exercise for Brain Fitness (Shoulder Stand)

Pranayama for Each Month
February:   Kapalbhati Yoga Video for Daily Practice
March:       4 Part Deep Breathing Exercise

April:         Sodarshan Chakra Kriya
May:          Supreme Yogic Breath for Brain Development and Mind Control
Meditation for Each Month

February:  So Hum Mantra Meditation for Joy and Peace
March:      Zen Meditation Technique
April:        Sodarshan Chakra Kriya
May:         Advanced Mind Meditation Videos

Yoga Exercise for Building Self Confidence:
One of the most popular poses from Kundalini Yoga is Archer Pose and this is the favorite for those warrior yogis looking to boost their course and confidence.  This pose is not suggested for ego maniacs as it is just gonna make their heads swell even more 

, but if you are looking to give your inner strength a boost, there is no better technique than Archer's Pose.
Remember that the biggest aspect of confidence, course and fear is psychological, so as you do this pose and breathe fiercely, engage your mind in helping you grow your self belief and power.  With every breath feel yourself expanding and growing more powerful, more focused, more strong and more resolute.  Done regularly it will help break the patterns of negative thinking and self doubt.  Practice this pose like you are a Warrior Saint.
Here is the link for Archer Pose for Building Confidence and Self Esteem.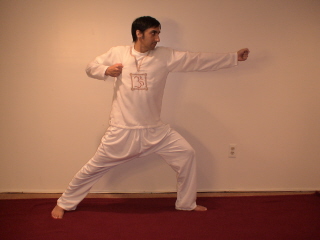 Archer Pose for Power and Confidence

Bhastrika Pranayama for Energy and Vitality:
Another aspect of self confidence is having a healthy body and having lots of energy.  Feeling energetic and healthy will give you a psychological boost and this will translate to you having more confidence.  This particular yoga breathing exercise is excellent for helping you build a more energetic body.  In addition, Bhastika Pranayama can boost your metabolism, help you detox, increase your lung capacity and also help you burn fat.  All of these blessings, especially looking and feeling better, also contribute to having more confidence and power.
Here is the link to this wonderful exercise: Bhastrika Pranayama to Burn Fat and More

Smiling Buddha Meditation for Happiness and Confidence:
Along with looking good and feeling healthy, feeling happy also helps boost confidence, and one of the best meditations for doing this is the meditation supposedly prescribed to the Buddha to cheer him up, the Smiling Buddha Meditation for Happiness and Confidence.  Remember to do this meditation with a smile and not allow negative thinking to bring you down.

So for this month, if you need to build your self confidence, go ahead and try the three techniques above.  Remember though that it is not about having a big ego, but it is about having faith in yourself that you can achieve here in life all that which you were meant to do.