Simple Yoga for Upper Body Training
Simple Yoga

Simple Yoga for Body Muscle Training

Yoga is much more than just physical exercises and body postures as I have pointed out in the article Introduction to Yoga.  Furthermore, this physical aspect of yoga (hatha yoga), is not just for flexibility and stretching either.  Yoga is more than adequate for helping you train and strengthen almost every muscle in your body, and build a system which is fully fit and healthy.  This is especially true with Kundalini Yoga, and I am going to show you how even simple yoga sequences can give you great physical results.

Kundalni Yoga has many sets which are designed to give you a full body workout, and I will be uploading some of those sets in the near future.  For now though, I want to teach you a simple sequence of exercises which will really help strengthen and build your arms, chest and shoulders.  This training will prepare you for the more advanced sets that I plan to upload in the future.  This exercise is a variation of Cobra Push-ups and is excellent for upper body strength and power.

This sequence combines 2 very simple yoga poses, Cobra Pose and Plank Pose to help work on your upper body and arms .  Here on Mastery of Meditation & Yoga, it will be part of the following 2 free online e-books: Free Hatha Yoga Poses & Online Kundalini Yoga Exercises.
Below you will find illustration of these body positions and full details of how to practice this excellent exercise.  This is not a complex sequence, thus suitable for beginner's as well.  There are also several variations for this sequence and I will present them below as well.

Cobra Push-ups for Upper Body Training

Illustration #1 Starting Position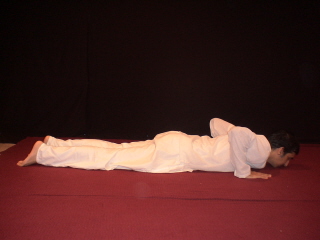 Illustration #2 Yoga Cobra Pose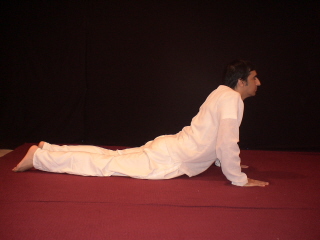 Illustration #3 Yoga Plank Pose


Simple Yoga for Upper Body Training – Cobra Push-Ups:
a. Instructions for practicing Cobra Push Ups:

Start in the position as indicated by Illustration #1.  Essentially this is the down position when doing simple push-ups (except toes are extended).  You are lying flat on your stomach with your hands near your shoulders.

Now come up into cobra pose and inhale deeply as you do so (Illustration #2).

Next exhale as you bring yourself up into Plank Pose as indicated in Illustration #3.

Then lower yourself back down to Illustration #1 down as you Inhale.  Finally, exhale in this down position and then repeat by coming back into Cobra pose and inhaling deeply.
Simple Yoga: Cobra Push-Ups Variation #2:
In this variation you will essentially skip Plank Pose, or Illustration #3.  So come into the pose as per Illustration #1, exhale, then come into Cobra Pose (Illustration #2) as you inhale deeply.  Continue to move between these 2 positions.  Even though this is a simple movement, I guarantee you will feel this in your arms and chest very soon .
Simple Yoga: Cobra Push-ups Variation #3:
A slightly different variation to this exercise, is that when you bring your body up into Cobra, have your thighs come up off the floor as well (Upward Facing Dog Pose).  The rest is the same. 
b. Duration for Cobra Push-ups:
c. Benefits of Cobra Push-ups:
Excellent exercise to strength the entire upper body.  Good for chest, arms and shoulders.

Good for training your back and abdominal muscles as well.  Essentially you enjoy all the many benefits that Cobra Pose and Plank Pose bestow.

Good for your digestive system and nervous system.

d. Practice Tips for Cobra Push-ups:
A smart way to build up your strength and train these important muscles is to use simple start stop tactics.  Do 30 seconds, then take a break in the down position, and then start again and do 30 seconds more.  Keep up this pattern, you will soon see marked improvement in your strength and muscle tone.

Since the toes are kept extended as show in the illustrations above, be careful as this can put extra pressure on your lower back.
Online Kundalini Yoga Kriyas Using Cobra Push-ups:
For now you can use the 6 Guidelines on How to Create Yoga Sets to help you integrate this simple, but effective sequence into your workout, but coming soon this exercise is going to part of some key yoga sets for building overall body strength and fitness.