Tough Power Yoga Pose – Not for Beginners
Power Yoga

Advanced Yoga Pose

For the power yoga fans who have been enjoying the high powered sets such as Core Abdominal Power Yoga Exercises and the Yoga for Full Body Fitness, here is an advanced yoga pose that is sure to challenge and test you as well.  Of course, if you are a beginner yogi looking to learn yoga or if you are looking for more gentle yoga sets, you will find plenty of those on Mastery of Meditation and Yoga as well, such as the Yoga Poses for Beginners Set and the Kundalini Yoga Best Beginner's Yoga Set, to name a few.

The following power yoga pose, Elbow Platform, comes from the timeless school of Kundalini Yoga and is designed to help you build grit and willpower.  Along the way to developing these and other intangible assets, the pose will also of course strengthen your body and muscles.  Specifically, it will work on your hamstrings, back, abs, buttocks and arms.  More on those benefits in the practice section below.
Although the basic version of this pose should be sufficient to challenge most yoga enthusiasts, I have also provided an advanced version of this advanced pose, for the real power yoga fanatics

.  Needless to say, please be careful when coming into this pose, and don't hold it for longer that you feel comfortable.  This posture is part of Kundalini Yoga Warrior's Kriya, which I will upload in the future.  It can also be integrated into your routine as per your needs.

This pose will be part of the following 2 free online e-books: Free Hatha Yoga Poses & Online Kundalini Yoga Exercises, where you will find a huge collection of other yoga poses and postures, fully illustrated and detailed.

Below you will find illustrations of this power yoga pose and complete practice details.  Please also follow the guidelines on how to practice yoga which I have detailed in the following 2 articles, Beginner's Guide to Yoga Practice and Guidelines for Kundalini Yoga Practice.

Power Yoga's Elbow Platform Pose

Illustration #1 Elbow Platform Pose Basic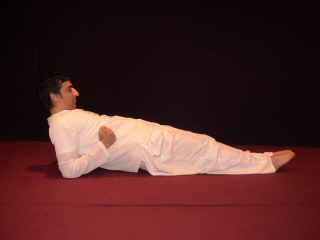 Illustration #2 Elbow Platform Pose Advanced – Left Leg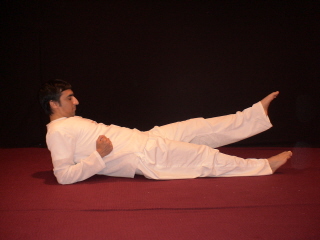 Illustration #3 Elbow Platform Pose Advanced – Right Leg



Power Yoga Pose – Elbow Platform:
a. Instructions for practicing Elbow Platform:

Come into the position as indicated by Illustration #1.  Essentially you are going to support your entire body with just your elbows and heels.  No other parts of the body should be touching the body.  The toes should be extended and the entire body should be kept straight.  The eyes can be either closed or if kept open, they should be focused on your toes.

While doing this yoga pose, you should be doing powerful Breath of Fire Breathing exercise, to reap the full benefits of this posture.
In the advanced version of this power yoga pose, you are going to raise one leg about 12 to 18 inches above the ground, so you will then only be holding yourself up with your elbows and 1 heel (Illustration #2 and Illustration #3).  Do one leg at a time (unless you have mastered levitation ).  Start with your left left and then switch to the right.  Keep the toes pointed throughout and your body straight. 
b. Duration for Power Yoga Elbow Platform Pose:
15 seconds – 3 minutes.  If you are doing the advanced version, split the time between each leg.  Again, don't push too hard, remember that as the muscles tire, the chance of injury rises.

c. Benefits of Power Yoga Elbow Platform Pose:
Excellent exercise to strength the upper and lower body simultaneously.  Good for shoulders, triceps, back, abs, hamstrings, buttocks and calves.

Great for building willpower and grit.  This exercise builds character and the ability to overcome challenges and obstacles in life.

Good for your nervous system.

d. Practice Tips for Power Yoga Elbow Platform Pose:
It is important to do some warm-ups before attempting this pose.  Specially warm-up your back, hamstrings and shoulders.

Use the Breath of Fire to carry your through as you become more proficient at this pose.  Forget about the body and mind, and just breathe powerfully.
Online Yoga Sets Using Elbow Platform Pose:
For now you can use the 6 Guidelines on How to Create Yoga Sets to help you integrate this advanced pose into your routine.  But coming soon this exercise is going to part of some key yoga sets including Warrior Kriya, which is perhaps the mother of all Power Yoga Sets, be on the lookout for that.