Video of the Greatest Devotional Vedic Mantra (Prayer)
Summary: My lovely wife, Trupti, sings my favorite devotional mantra, Tvameva Mata in both Sanskrit and English for you.  This mantra is perhaps the greatest devotional and gratitude mantra coming from the ancient Hindu scriptures, the Vedas.  Enjoy the videos.
For as long as I can remember I have loved the following devotional and gratitude Mantra.  It is called Tvameva Mata and ever since I first heard it, it has been a part of my daily prayers.  In my opinion, it is one of the greatest devotional mantras and still today, whenever I hear it sung with love, it gives me the chills.

The origins of Tvameva Mata lie in the ancient Hindu scriptures, the Vedas, and it is frequently chanted at the end of Hindu prayers (havan).  This mantra essentially, praises the Lord as being everything.  It is a beautiful prayer and for those looking to incorporate gratitude and devotion into their heart and lives, you may wish to try this mantra for yourself.
Here is the original Sanskrit version of this mantra, below that I have provided the English translation.
Sanskrit Version of Tvameva Mata: 
Tvameva mata cha pita tvameva,
Tvameva badhu scja sakha tvameva.
Tvameva vidya dravinam tvameva,
Tvameva sarvam mama deva devah.
English Translation of Tvameva Mata:
You are the mother, you are the father,
You are the family, you are the friend.
You are all wisdom, you are all treasure,
You are my everything, My Lord My Lord.

Below are 2 videos of Tvameva Mata mantra being sung, one in the original Sanskrit and one in English.  Don't fear, I am not singing it :-P.  In fact, you are all in for a special treat, as I managed to wrestle my lovely and talented wife away from our two little boys, just long enough for her to sing this amazing mantra for you all.
I hope you all enjoy this mantra as much as I do.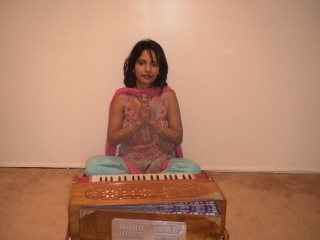 Trupti Mehta
Video of Tvameva Mata Mantra
Sanskrit Version

Sung by Trupti Mehta
Video of Tvameva Mata Mantra
English Version

Sung by Trupti Mehta