Yogic Technique to Power and Cleanse Your Aura
Aura Cleansing Technique

Yoga for Powerful Aura

Clearing and developing the power of one's aura and magnetic field is an important aspect of yoga in general and is especially true in Kundalini Yoga.  There are many wonderful exercises to accomplish this, such as Eagle Pose for Powerful Aura, which I have published previously, and the exercise in this article is another fundamental Kundalini Yoga exercise great for cleansing the aura and charging your magnetic field.
The Aura is a part of the 10 Bodies of Light Model, on which Yoga Numerology and Master Number Analysis is based, and it is the sum total of your nerve strength and bio-electric energy.  It plays a subtle but important role in your life, as the aura spontaneously affects and influences others who come within it's reach.  Thus, a person with a clear, powerful aura would be very charming and magnetic, and able to mesmerize others with their simple presence and being.  In addition, the aura is like a shield against negative energies and unknown forces which may wish to influence or harm you.
For anyone who has taken a Kundalini Yoga class, the section that involves shoulder work is usually the most dreaded

 , and unfortunately most work involving the aura requires this kind of exercise.  This technique is no different and will tend to challenge your mental willpower, more than your physical prowess.  Just keep in mind all the great benefits you are going to enjoy, to help you get through the tough phases of this technique.

Another point I wish to make regarding cleansing and strengthening the aura, is that the breath plays an important role in that process.  The Kundalini Yoga techniques which are designed to clear the Aura, almost always have a vigorous breathing pattern associated with them.  This technique is again in line with this approach, and uses the powerful Breath of Fire Breathing Exercise to maximize it's purification powers.  So, keep that in mind as you practice this technique.

This exercise will be part of the Free Online Kundalini Yoga Exercises series here on Mastery of Meditation.  In that series and the other free online e-books you will find a large collection of other yoga poses and exercises, fully illustrated and detailed as well.  Please also follow the guidelines on how to practice kundalini yoga, which I have detailed in the following 2 articles, Beginner's Guide to Yoga Practice and Guidelines for Kundalini Yoga Practice.

Yoga Criss-Cross Technique for Cleansing Aura
Illustration #1 Starting Position for Yoga Criss-Cross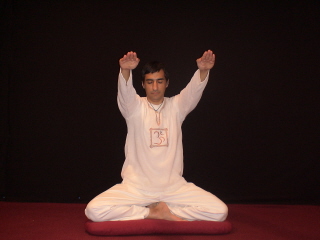 Illustration #2 Alternate Mudra for Yoga Criss-Cross





Illustration #3 Yoga for Aura Criss-Cross


Illustration #4 Yoga for Aura Criss-Cross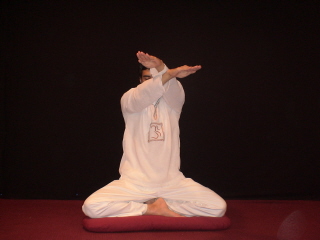 Yoga Criss-Cross Technique for Cleansing Aura:
a. Instructions for Yoga Criss-Cross: 

Sit in easy pose (legs crossed).  I am using a firm cushion in the illustrations above and sitting in Burmese Style (one leg in front of the other).

Extend both arms in front of you, slightly raised such that your palms are at hairline level (top of the forehead).

You can either have all your finger extended as I have done in Illustration #1, or do the more advanced mudra, where your thumb is at the base of your pinkie (Illustration #2) with the other fingers extended.

Close you eyes and tune into your energy.  As you do this exercise you can visualize your Aura glowing brighter and brighter.

Begin to rapidly criss-cross the arms in front of you, bringing one on top (Illustration #3) and then the other (Illustration #4).  At the same time being powerful the Breath of Fire Breathing Exercise.  The arms should cross only up to about the elbows and go outwards only slightly wider than shoulder width, as I have shown in the pictures above. Need highly qualified thesis help? Let PhD/MBA academic writers help write a thesis paper of top quality.

Continue to criss-cross your arms in this way at a rapid rhythmic pace for the duration of the exercise.

b. Duration for Criss-Cross Technique: 30 seconds – 5 mins

c. Benefits of Criss-Cross Technique for Cleansing Aura:  
Cleanses and powers your Aura.


Strengthens your Magnetic Field.

Bestows charisma and magnetism..

Tones your arms, shoulders and chest muscles.

Improves your respiratory system.


Builds willpower and character.
d. Practice Tips for Yoga Criss-Cross for Powerful Aura:
Take a break in between if it gets too difficult, and then start again when ready.

As you develop your mastery of this technique, start to see through the initial phases of discomfort that you feel.  It will get easier as the energy pathways open up and your mind and body stop resisting the pain.

At the end of the exercise, use Mula Bandha as I have described in the following article, 5 Simple Tips to Elevate Your Yoga Practice.  This will give your Aura an additional boost.

Coming soon I will publishing an entire yoga set focused specifically on cleansing and strengthening your Aura, so be on the lookout for that.