5 Best Yoga Techniques and 5 Top Spiritual Articles of 2012
For those who are not signed up to receive my monthly newsletter, here is the January 2013 edition.  It was quite popular as it featured the best yoga techniques of 2012 and the top 5 articles from last year as well.  So in case you missed any of the top content here is your chance to catch up :-).
For those who missed the previous newsletters you will find them archived here – Mastery of Meditation Newsletter Archives.
Also, for those who are interested is self healing and healing others, I want to introduce you to a great Online Reiki Master Certification Program.  You will find more details below. 
This Edition Features :-
Top 5 Articles from 2012.
Top 5 Yoga Techniques from 2012.
Top 5 Articles from 2012:
Titles below are links to the full article.
https://anmolmehta.com/2012/07/10/how-to-stop-negative-thinking-and-overcome-negative-thoughts/
Learn what the 6 signs of negative thinking are and then learn 10 proven techniques to help end negative thinking and overcome negative thoughts.
https://anmolmehta.com/2012/04/10/how-to-be-happy/
So now that you have ended negative thinking, it's time to take it to the next level and live a meaningful and joyful life :-).  So hear over to this article to learn 5 great techniques for accomplishing that. 
 https://anmolmehta.com/2012/01/05/help-me-lose-weight/
Here is Pat's true story of how she lost significant weight doing Kapalbhati Yoga Pranayama.  In this article you will also find links to other weight loss resources, including Ayurvedic Diets, Yoga Sets to burn fat and Meditations to help you reach your weight loss goals. 
https://anmolmehta.com/2012/05/30/ayurvedic-treatment-for-healing/
This article details an excellent 8 Step Ayurvedic Program to help you get healthy, quit addictions and live a vibrant, energetic and long life. 
https://anmolmehta.com/2012/01/23/signs-and-symptoms-of-the-kundailni-awakening-experience/
If you think you are experiencing Kundalini Awakening you can head over to this article and read all about the signs and symptoms that accompany a full blown kundalini event.
5 Best Yoga Poses of 2012:
Titles below are links to the full article, so click the link to read the full details on the particular exercise.
https://anmolmehta.com/2012/11/27/increase-willpower-yoga-exercise/
Here is an unusual Kundalini Yoga exercise which is actually designed to improve your nervous system, but serves a dual purpose by also being excellent for building your mental strength and willpower.
From the position below, you will be raising and lowering your arms rapidly 6 inches in each direction.  Check the article for all the details and tips.
https://anmolmehta.com/2012/12/05/root-chakra-yoga-exercise/
Along with Yoga Crow Pose, this is another great yoga pose for clearing and balancing the root chakra.  It also, of course, helps to stretch the groin and hips to assist in sitting in meditation.
 https://anmolmehta.com/2012/03/07/beginners-yoga-exercises/ 
Here is an exercise that has been enjoyed by almost every student in my yoga classes and it is a regular part of my yoga routine as well.  This simple exercise helps you stretch, warm-up and also strengthen your abs and core.  Very useful indeed :-).
To do this exercise you will simply rock back and forth as shown below, inhaling as you lean back and exhaling as your lean forward.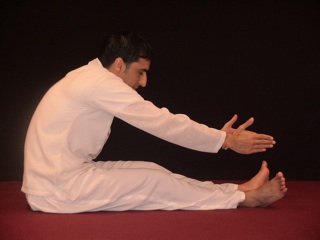 https://anmolmehta.com/2012/12/11/yoga-to-release-tension/
Here is a more recent addition to our Online Hatha Yoga Collection.  It is the beautiful Cow Pose, which is wonderful for relaxing and releasing tension, while at the same time stretching your hips, ankles and thighs.
Please follow all cautions for this exercise given in the article so you can avoid any injury.
Yoga Cow Pose
https://anmolmehta.com/2012/01/18/easy-fat-burning-exercise-yoga/
A really fun, energetic and good fat burning exercise is Yoga Jumping Jacks.  They are actually not as easy as you think and to do it right you will require quite a bit of mental focus and concentration as well.  Just try it and see :-).
To do Yoga Jumping Jacks, from the starting position, inhale half way and jump to the half-way position as shown.  The legs should only be half-way apart at this time.  Then complete the inhalation and complete the jump as shown in the full jump illustration below.
Then exhale half way and come back into the half-way position. Finally complete the exhalation and come back to the starting position.  Slowly build up to a set of 100.
Starting Position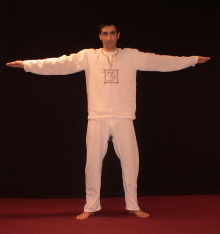 Online Reiki Master Certification:
I have always been fascinated by energy and holistic healing arts and of them, Reiki especially has been of great interest to me. So when I found Adele and Gary's Certified Usui Reiki Master Self Study Course, it certainly caught my attention.
Since I offer online training as well, I know it can work well if the course is well designed, properly thought out, affordable and a product of love and passion.  I am happy to say that this course is really all that and more.
If you are interested in self healing or becoming a Certified Reiki Practitioner or even a Reiki Teacher, I suggest checking out this program.  It is really comprehensive and Reiki, like other holistic sciences, can certainly transform your entire being and life for the better :-).
Click the link or image below to explore the program more…