Excellent Office Yoga Exercise for Back Pain
Yoga for the Workplace
Yoga for Back Pain
A great yoga for the office set is the Simple Chair Yoga for Energy and Stress Relief, I uploaded some time ago, and of course if you browse through the free online hatha and kundalini yoga galleries, you will some more simple yoga exercises you can do while at work.  But, today I want to give you a specific yoga exercise which helps to stretch the lower back and relieve back pain and which is perfect to do at the office.
Our jobs are undoubtedly becoming more and more sedentary, and here come the back troubles as all we do all day is sit at the computer or stand at the counter.  So to give your lower back some much needed love and care, you will find the exercise below invaluable.  Of course, this yoga pose can be done anytime and anyplace, but it's simple nature and back pain relieving benefits, make it perfect for the office environment.
In addition to being for the workplace, this pose can be part of any warm-up or stretching routine, and is especially handy for those who have trouble sitting cross-legged or on their heels.  This pose is done standing up and it gives equal benefits as many of the other more famous yoga poses which help the back.  Due to the easy nature of this pose, it is also great for seniors who want to include yoga into their fitness routines.
Just like other exercises and poses, Office Yoga Spine Stretch, will also become part of the free online galleries that are hosted here on Mastery of Meditation and Yoga.  You will find the complete indexes of yoga techniques in the following 2 e-books, Free Online Hatha Yoga Illustrations and Free Online Kundalini Yoga Techniques.  Also, this pose will be integrated into yoga sets, which are then used in the Free Online Meditation and Yoga Courses that are offered here.
Even though this is a simple yoga exercises, you should still follow the guidelines that I have suggested in the following 2 articles.  Anytime we are dealing with stretching the lower back, we want to move smoothly and without excessive strain.
Beginner's Guide to Yoga Practice
Beginner's Guide to Kundalini Yoga Practice
Below please find full details of how to practice Office Yoga Back Stretching pose, along with illustrations, step-by-step instructions, benefits and practice tips.

Office Yoga Lower Back Stretching Exercise



Illustrations for Stretching Exercise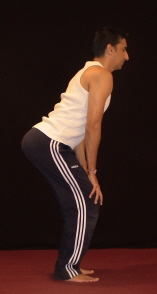 Illustration #1 – Lower Spine Stretch In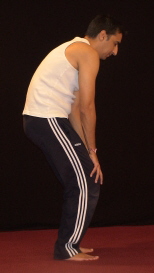 Illustration #2 – Lower Spine Stretch Out

A. How to Do Spine Stretch:
Stand up, have your feet hip distance apart, lean forward, bend your knees slightly and place your hands just above the knees.  This is the starting position for this exercise.
Next Inhale deeply and while doing so press your stomach forward creating a deep arch in your back.  As you arch your back in this way raise your head as well.  You will feel a deep stretch in your entire spine, especially in your lower back, as well in your abdominal region.  You will also be working your thigh muscles, as you are in a partial squatting position.  Hold your breath in and hold this position for a few seconds.  This position is shown in Illustration #1 above.
Next arch your back the other way (out) and let your head come down with your chin reaching towards your chest.  Exhale as you come into this stretch and again hold for a few seconds.  This position is shown in illustration #2 above.
Continue to move smoothly between these 2 positions, stretching your back and spine as you do this.  This exercise should feel really good to do, especially after sitting for long periods of time.
B. Duration of Office Yoga Spine Stretch:

You can do this exercise for as long as you like.  But 2-3 minutes should be enough to give your back a great stretch.
C. Benefits:
This exercise is great for stretching the lower back and relieving lower back pain.

It also strengthens the things and legs.

Good for the digestive system.

Maintains flexibility of the spine.

Exercise can be done anywhere and at anytime, thus is perfect for the office or cube.

Helps establish emotional balance.

D. Practice Tips:
Make sure to really use the breath to help accentuate this exercise.

As you feel your back warming up you can move back and forth at a faster pace.

You can increase the amount you stretch your back after doing a few repetitions to warm-up.

Keeping a good erect sitting or standing posture at all times, will go a long way to helping keep back trouble away as well.

Teach your office mates this yoga pose as well, so their backs too can benefit from this great exercise :-).

More Great Yoga Exercises for Your Back
Here are 3 more great yoga exercises for your lower back, unfortunately they may not be appropriate to do in your workplace

.
Yoga Spinal Twists for Your Lower Back (These are actually ok for the office as well).
Yoga Cobra Pose for Healthy Back