Hatha Yoga Pose for Brain Fitness – Shoulder Stand Asana
Shoulder Stand Yoga Posture for Brain Health
Hatha Yoga Asana for Brain Fitness
This yoga asana (posture) is our first inverted pose and it is about as inverted as you should go according to kundalini yoga.  In hatha yoga, the inversion is taken one step further, in head stand (Sirsh Asana), but kundalini yoga stops at shoulder stand (Sarvanga Asana).  So this pose is another one which has been adopted by these 2 great schools of yoga, and thus, it is a part of both the Free Online Kundalini Yoga Poses as well as the Free Hatha Yoga Poses Photo Galleries. 
Shoulder stand has a long list of benefits, not the least of which is the additional flow of nutrient rich blood to the brain region, to enhance brain fitness and health.  Needless to say, this pose should be approached with caution and the posture should not be forced in any way.
Below you will find an illustration of shoulder stand.  The variation to this pose is not having the legs vertical, but instead they are leaning more towards the floor (not over your head though).
Hatha Yoga Shoulder Stand Pose for Brain Health
Picture of Hatha Yoga Shoulder Stand Pose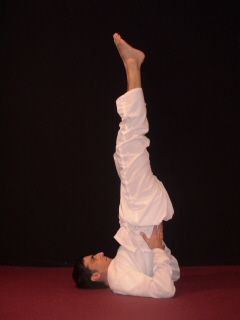 Hatha Yoga Shoulder Stand Pose Practice Details:
a. Step-by-Step Instructions for Hatha Yoga Shoulder Stand Pose:
Lie flat on your back.

Curl up your legs and lift yourself up onto your shoulders, with your hands supporting your lower torso as shown.


Extend your legs up straight into the air and point your toes.




Work your self into as much of a vertical position as possible, keeping the torso and legs aligned.

In the final position, have your chin pressed into your chest as you reach up with your body and legs.

Begin long deep breathing, to help oxygenate and enrich the blood.

Once in position, close your eyes and let the asana do it's magic.

b. Duration for Hatha Yoga Shoulder Stand Pose:
15 Seconds – 5 minutes.

Start slowly and build up your time steadily from there.

c. Benefits of Hatha Yoga Shoulder Stand Pose:
Excellent yoga pose for nourishing the brain with oxygen rich blood to help it remain healthy and fresh.

The asana also reverses the affect which gravity has on the organs and helps the inner systems realign themselves.

Helps drain and remove stagnant blood from the extremities.

The pressure in the neck region massages all the nerves and subtle channels, again promoting improved brain fitness by ensuring better flow to this important region.  In addition the thyroid and parathyroid glands are massaged and toned, improving the functioning of the endocrine system.


Helps counteract varicose veins.

Pacifies the mind and induces peacefulness.


Helps boost the immune system, as well as overall health and wellbeing.
d. Practice Tips for Hatha Yoga Shoulder Stand Pose:
Careful with your neck.  Very important to not over strain this delicate region.  So only straighten as much as you are comfortable doing.  Don't fall over.

If you can't get all the way vertical, that is fine.  Just straighten as far as you can and slowly improve the posture over time.


Strong abdominal muscles will help you master this pose.

Don't do this asana excessively.  One time per day is more than enough and I don't recommend it for more than 5 minutes max.

Online Kundalini Yoga Kriyas Using Shoulder Stand Pose:
(Coming Soon).