Dynamic Yoga Situps for a Fast Ab Workout
Exercise for Fast Abs

Yoga Sit Ups for Building Abs

One of the important factors to optimize fitness gains is to introduce variety in the exercises you use to target various muscle groups, and in that way abs and stomach muscles are no different.  Not only does variety help keep your fitness and yoga routines fresh, but it also help to challenge the muscles in different ways which is essential to their development and strength.  So I think for those who have been doing the various ab exercises and workout already on the blog, such as Core Abdominal Power Yoga Set or the Terrific Yoga Ab Exercises and Workout for Shaping Stomach, it is time to introduce you to the another excellent technique for getting a fast ab workout, the potent Yoga Situps.

As you would expect, Kundalini Yoga exercises will certainly keep you moving and try to exploit the value of dynamic pressures to help rejuvenate, heal and strengthen various regions of the body.  And Kundalini Yoga Sit Ups are no different.  Kundalini Yoga emphasizes speed in terms of bestowing results and in this case the focus is the same here as well.  To target the abs and accelerate their development as fast as possible.  This particular exercise targets, at one time, both the lower abdominal as well as the upper abdominal, so it is a great way to work the entire stomach and develop six-pack abs fast.

The drawback to using fast and powerful techniques is that they come with dangers of injury, so you really need to be cautious when using these potent exercises.  To that end please follow all the guidelines I have laid out in the following documents prior to practicing these Kundlaini Yoga exercises and workouts.

Beginner's Guide to Yoga Practice
Guidelines for Kundalini Yoga Practice
Yoga Sit-ups Overview:

Kundalini Yoga Sit-ups combine several postures into one fluid and ab busting motion.  It combines Forward Bend, Corpse Pose and Plough Pose into one exercise which will give you one hell of an ab workout.  If you are interested in fast ab results and quick six-pack abs, then doing these Yoga Situps are just what the doctor ordered.  Not too easy, but a lot of fun and great results.  As we are approaching the summer here in the US, I will be providing you more great yoga exercises for getting flat, toned abs, in the near future so you can enjoy the body you have been gifted.  So be on the lookout for those.

Yoga Sit Ups will be added to our free ongoing yoga exercises e-book, which you can find here: Online Kundalini Yoga Exercises e-book.  In addition, be on the lookout for yoga sets incorporating this exercise in the near future here: Free Online Kundalini Yoga Sets.  And also, be sure to check out the Free Online Yoga Classes that we already offer on the website.

Below are all the details, along with illustrations for Yoga Sits, do them regularly and washboard abs are yours.
Yoga Sit-ups for a Fast Ab Workout

Illustrations for Yoga Situps


Illustration #1 – Yoga Situps Starting Position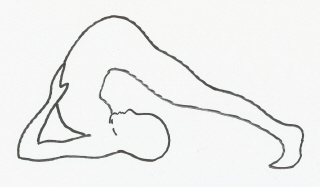 Illustration #2 – Yoga Situps Ending Position (Arms flat on floor instead)
Yoga Situps Fast Ab Exercise:
A. How to Do Yoga Situps: 

Start as shown above in Illustration #1 – Yoga Situps Starting Position.  Please note you do not have to reach your toes or have to have your head reach your knees.  Just reach forward as far as possible.

From this position start to lie back and come into Corpse Pose

.  In Corpse Pose you are simply lying on your back with your arms to your side and legs extended.


Now swing your legs over and come into Plough Pose which is Illustration #2 above.  The only difference is your hands DO NOT have to come up to support your lower back, instead just keep them flat on the ground as they were when you came down into Corpse Pose.  Also, you do not need to tap the floor with your toes if you cannot reach that far back.  Just swing them over as much as comfortable and be careful with your neck.

Next swing your legs back down and come back into Illustration #1 position.  As you swing your legs over and down, bring your upper body back up and reach forward with your arms towards your toes.  Continue on in a smooth motion in this way.

Variation for advanced practitioners. 

If you are ready for a slightly tougher challenge and ready to blast your abs even more do the following sequence.

Lie on your back with your arms stretched out OVER your head and ON the floor behind you.

Then swing up and come into Illustration #1 above.  Again as you come up reach forward with your arms towards your toes.

Next as you come down let the arms come to your side as in corpse pose and swing your legs over into Plough Pose (Illustration #2) above.  Again your arms stay flat on the floor besides you and do not have to come up to support your lower back.

Next, as you swing your legs over and down, SWING YOUR ARMS back up and over so they are stretched out on the floor behind you (the position where you started).

Then come up and into Forward Bend again and continue from there.  Soon your abs will be burning and core will be getting stronger and fitter.

To breathe.  Inhale when you lie back during the transitions and exhale when you come into Forward Bend and Plough Pose.
B. Duration for Yoga Situps Ab Exercise: 15 seconds – 11 minutes.

C. Benefits of Yoga Situps Ab Workout:  
Excellent for strengthening abdominal and stomach muscles.


Great for toning abs and getting six pack abs.

Great overall workout.


Excellent for flexibility.

Good for digestive system and internal cleansing.


Stimulates blood flow and helps overall health and well being.

Excellent exercise for weight loss and burning fat.

D. Practice Tips and Cautions for Yoga Sit Ups Fast Ab Workout:
Please stretch before doing this exercise.  Specially your hamstrings.

Do not over stretch in either pose.  Only stretch as far as comfortable.

Careful when coming into Plough Pose, especially with your neck.

You should do Forward Bend and Plough Pose first before doing the situps.

Even though this exercise will work your abs very fast, I suggest slow and steady as the best and safest way for developing fitness and strength.  So feel free to take breaks in between doing these situps.

This exercise can replace any current ab exercise you have in your workout.

More Ab Exercises:
In addition to the ab workouts I mentioned in the beginning of the article, there are more excellent yoga exercise on the website to work out core and here are a few of them…
Best Yoga Exercise to Get Firm Toned Abs