Gentle Yoga & Meditation Class Gets off to a Beautiful Start & a Picture !
Well folks Mastery of Meditation has finally gone Multi Media, yes I have at long last figured out and uploaded the very first image onto this website and I hope it is the first of many.  For those who have inquired, yes there is a plan to upload online videos as well in the not so distant future I hope.
The picture above is of our wonderful Gentle Yoga and Meditation Class that kicked off today.  I have a great deal of love and respect for my students and I am very grateful to them for making this class a reality.  The Silent Mind Meditation Center really belongs to them, I am just a guy who happens to teach there.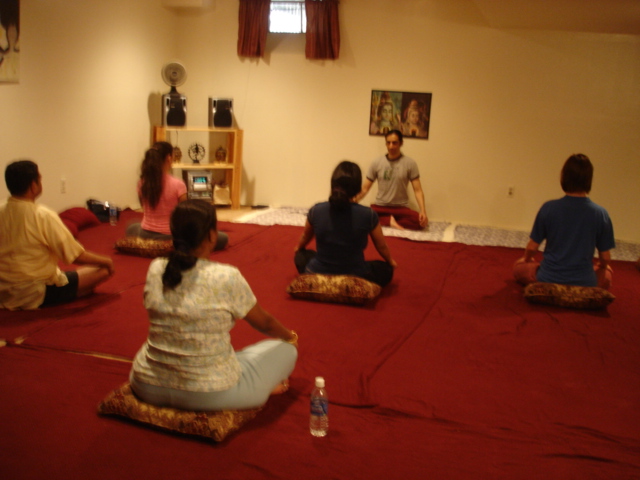 The first class really went well, although our meditation session was shorter than I would have liked as we ran out of time.  This was primarily because it was our first class and we gave students some extra time to arrive and settle in.  I have a good feeling about this class as I think it will give those interested in meditation and pranayama (breathing exercises) a good opportunity to learn, develop and deepen their practice.  In today's class we learned several breathing techniques, such as Anuloma Viloma Pranayama and we also practiced Zen Meditation Technique (Zazen).  We also did a modified version of the Morning Wake-up Kundalini Yoga Exercises.

The Kundalini Yoga Class afterwards went well too and some students who took both classes found that the Gentle Yoga and Meditation class provided a perfect foundation and "warm-up" for the Kundalini Yoga Class.  In the Kundalini Class we continued to work on the Navel Center (Manipura/Nabhi Chakra) and introduced the powerful Kundalini Kriya, Sat Kriya.  I do plan on uploading Sat Kriya to the website as well.
There were many interesting questions today, in the question answer period we have after class.  I have taught many Kundalini Yoga classes, in many locations and privately as well, but this is the first time I have had such in-depth and wonderful discussion sessions after class.  In fact these satsang (group discussions on spiritual topics) sessions sometimes last over an hour!  I have to let other students, who may not be actively participating, know that they are not obligated to stay… but most seem to stick around.
Among the topics we discussed today were Ayurveda (Science of life – Ancient healing system of India), Yoga and vegetarianism, Donations and the Law of Karma.  The discussions on Ayurveda and diet included the role of Rajasic foods in one's practice, along with discussions on Sattvic and Tamasic food groups.  The discussions on donations, included my view on teaching for free and my favorite law of Tantra "What ever comes let it come, what ever goes let it go."  It was a great class and I look forward to many more.