Spiritual Transformation Underway | 70% Say Yes
Spiritual Transformation Survey Results

Our latest spirituality survey gives us a reason for optimism and hope.  The survey asked which direction were we heading spiritually speaking.  Was a spiritual transformation for the better taking place?  Or were we going backwards?  Quite simply, the survey asked if you felt we were getting more or less spiritual.   The answer was a pretty resounding YES.  70% of you felt that we were indeed becoming more spiritual, while 30% felt that we were actually transforming for the worse.  Below is pie graph reflecting these results.
Spiritual Transformation Graph: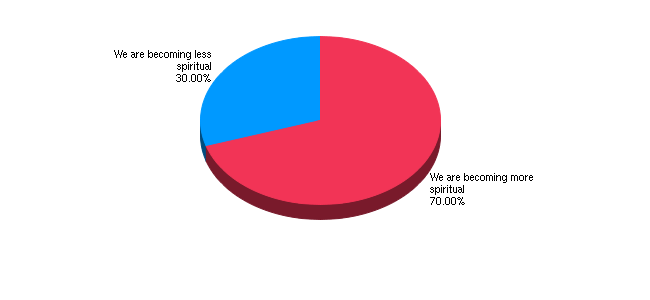 According to Kundalini Yoga (and many other spiritual schools), we are heading towards a shift in consciousness and a new era is going to dawn upon us starting in the year 2012.  The essence of this change is that it is a lifting of human consciousness.  Furthermore, those who raise their level of spiritual vibration to align with this new age, are going to find it easier to make the transition, while the age will prove to be difficult for those who remain rooted in lower level thoughts, emotions and pursuits.  More on this as we move closer to 2012.
I would like to thank all of you who participate in the surveys here on Master of Meditation, Yoga & Zen.  It is great to get you input and thoughts on these interesting questions of our time.
For those looking to transform spiritually you are welcome to take the online classes offered here, or embrace some of the meditation and yoga techniques avaiable via the free e-books and videos.  Here are 2 handy links for you…
Free Online Yoga & Meditation Classes
Free Online Yoga & Meditation Books and Videos
Be Good, Do Good!