Kundalini Yoga Pose for Inner Strength
Yoga Exercise for Compassion and Willpower
Before I get into this wonderful Kundalini Yoga pose I would like to encourage you all to participate in the most interesting survey on enlightenment that I am currently running on Mastery of Meditation & Yoga. Here is the link to this survey, please do take a moment and give your input: "Survey: How Many Enlightenment Experiences Have You Had?" Now onto the yoga pose which captures the very essence of sacrifice and compassion, while at the same time building inner strength and willpower.

A core concept in all religions, which is also very much a part of Kundalini Yoga, is the idea other mindedness. This simple, yet invaluable idea, is simply that we ought to not just live for ourselves, but also ought to find ways to have the strength and energy to help others. Well, the following Kundalini Yoga pose makes it possible for you to integrate this beautiful concept right into your yoga practice.
I call this pose, the Jesus Pose, in honor of one of the greatest examples of inner strength and self-sacrifice that humanity has ever known. We all know the wonderful benefits of yoga practice, but by incorporating this exercise into your practice, you can take it to another level by making the practice not just for yourself, but also for others. In addition to cultivating this attitude of other mindedness, this pose is also great for increasing your inner strength and willpower.

I tend to add this exercise to the end of my set, specially anytime I am doing a Heart Chakra Set, but you can add it to other sets as well. If you are a Kundalini Yoga teacher, I find the students really willing to do this pose for longer periods of time despite discomfort it produces. The motivating statement I use is along the lines of the following,
"Are you willing to carry the load for others who are unable or unwilling to carry their own load?" From the response I see, the answer always seems to be a resounding "YES!"
This yoga pose in the seventeenth entry in the Free Online Kundalini Yoga Poses E-book. As our collection of Kundalini Yoga poses grows you will be able to use these exercises to create your own customized yoga sets. To do so you can use the guidelines laid you in the following article: 6 Important Guidelines for Designing Kundalini Yoga Sets.
Kundalini Yoga Pose for Inner Strength & Sacrifice
Illustration #1: Kundalini Yoga Jesus Pose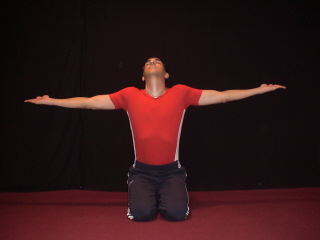 Illustration #2: Kundalini Yoga Jesus Pose (Side View)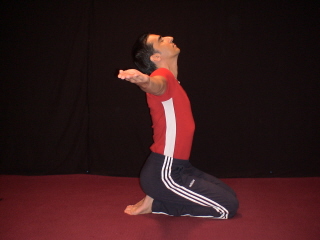 Kundalini Yoga Jesus Pose for Inner Strength & Sacrifice:
a. Instructions for practicing Jesus Pose for Inner Strength & Sacrifice:

You can do this pose, sitting on your heels in Rock Pose, sitting cross legged in Sukh Asan, sitting on a chair or while standing. Generally I do it in Rock Pose sitting on my heels, with my back straight (as shown in the pose illustrations above).

Bring your hands straight out to the sides with palms facing up. The arms should be shoulder level and parallel to the ground. Throw you head back and close your eyes.

Begin Breath of Fire, at a pace and intensity which is comfortable for you.

Hold past the point of discomfort. Remember you are doing this exercise to help burn the Karmic Debt of others and not just for yourself. Keep that in mind as the pain tries to get you to quit.

b. Duration for Jesus Pose for Inner Strength & Sacrifice:
1 minute – 11 minutes. Generally add this exercise to the end of a set and do it such that you have to at least bear some discomfort (see tips below for more on this as well).

c. Benefits of Jesus Pose for Inner Strength & Sacrifice:
Helps burn the Karmic Debt of others. gay lesbian movies list

Builds your inner strength and willpower.


Opens your Heart Chakra and makes you compassionate.

Helps you develop the ability to sacrifice and be thoughtful of others.

d. Practice Tips for Jesus Pose for Inner Strength & Sacrifice:
Don't give up on the first sign of discomfort. If you can get through that phase, you will find your energy systems opening up and the exercise getting EASIER to sustain.

If you are teacher, remind the students of the sacrifice they are making here, this motivates and inspires them to hold on a little longer than they normally would.


Add this exercise to the end of a set and take your kundalini yoga practice up to a higher level.
Online Kundalini Yoga Kriyas Using Jesus Pose:
Heart Center Opening & Balancing Set (Jesus pose is perfect to add to the end of this set).