Meditation Teacher's Training and Certification Program Now Open
Meditation Teacher's Training Program
Online Meditation Certification Program



(Update: New website for Meditation Teacher Training and Certification Program can be found here).
For those of you who read my blog via RSS Feeds, Blog Emails or direct Blog Bookmarks, I wanted to make you all aware that I am now offering a comprehensive Meditation Teacher's Training Program.  Just 2 days ago I opened the program up to the newsletter subscribers, and I am very happy to say that I received a great response from the readers.  Welcome to all of you who have signed up for the program and I am looking forward to working with you during the training course

.
If spiritual sciences can be thought of as a necessary meal for the Soul, in my view Yoga and Pranayama are the appetizers, while Meditation is the main course

.  This is why I have worked very hard on putting together this program, and waiting 3 years, to ensure all the necessary material was created, before offering it to you all.  I am very keen on sharing the wisdom of meditation and helping all of you become great teachers, so that you too may then help spread the light.

Below are the all the details for the Certification Program, which you can also find on the following page Meditation Teacher' Training Program.  I have created a special sliding scale for the program fee, where you get to choose how much you pay for the training.  It starts as low as $21 and goes up to the full price of $101.  This is because I don't want anyone who is serious about becoming a meditation teacher to not have an opportunity to complete this program.  
If you have any questions regarding the program please feel free to email me at anmol@anmolmehta.com.  Thanks again to everyone for helping me bring this vision to reality.
Mastery of Meditation Teacher's Training and Certification Program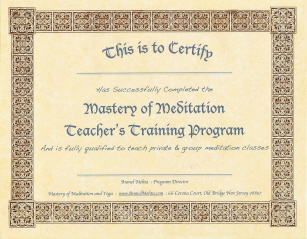 Meditation Training Program Overview:
This is a fully online multi-media home study course to train you in the profound art of meditation, and make you capable of training others as well.  Today there is no greater need than spiritual teachers and guides, and there is no greater calling either.  This program is designed to help you become a master meditator and raise your level of consciousness, and also, to teach you how to help others do the same.  This program fulfills my vision to create great teachers to spread the light of wisdom and Truth and it is my deepest pleasure and honor to offer it to you all.

In this program, I do not withhold any wisdom or knowledge.  In fact, you have full access to 90% of the course material even before you sign up.  Here is the link to the material that the course consists of – Mastery of Meditation Teacher's Training Material.  Also, here is the link to the page which has the actual program details – Meditation Teacher's Training Program Syllabus and Details. 
In this program, I will not just teach you all there is to know about meditation, yoga for meditation and pranayama, but I will also share with you all the industry secrets on how to set up a successful meditation business and a high traffic yoga and meditation website.  This will let you earn a living, while walking this noblest of paths.

Below are all the details for the certification course.  You will notice that the course is designed for today's world and it's emphasis is not on archaic theory, but on actual practice and experiential learning instead.  The objective is to certify, that once the training is completed, you are a master meditator, and are capable of teaching others how to use this evolutionary science to transform themselves and their lives.

Meditation Training Program Topics Covered:
As I mentioned above this is a multi-media program.  Which means it includes instructional videos and MP3s, along with the written material to ensure your training is comprehensive and accurate.  The course covers the following topics.

1. Gentle Yoga for Meditation.
2. Pranayama (Yoga Breathing Exercises) for Meditation.
3. Fundamentals of Meditation.
4. Fundamentals of Enlightened Living.

5. Basic Meditation Techniques.
6. Advanced Meditation Techniques.
7. How to Teach a Meditation Class.
8. How to Set-up a Meditation Business and Website.

How the Meditation Training Program Works:
1. Course Materials:
Most of the material for this program is available online.  The rest will be sent to you upon registering (The How to Create a High Traffic Website and How to Run a Meditation Center will be sent to you upon registration).
2. Time for Completion:
The program is designed for 8 weeks to ensure you experience the affects of the meditations you must learn, but you can complete the program at your own pace.  If you are already a proficient meditator, then you can complete it faster.  There is no minimum time for completion.  The maximum time you have to complete this program is 1 year from your date of registration.
3. Full Support from Anmol:
You will have full email support from me for the entire duration of the course.

4. Examination:
At the end of the program you have to pass an open book home examination which will be emailed to you.  You can complete this examination at your own pace and must score above 80% to receive the certification.  If you fail the examination, you will have to retake it, until you do pass.

What You Get After Completing the Training:
1. Certification:
At the end of completing the course successfully you will receive a signed certification from Anmol Mehta and Mastery of Meditation and Yoga, indicating you have passed the Mastery of Meditation Teacher's Training Program and are fully certified to teach both basic and advanced Meditation.  This includes teaching Yoga and Pranayama for Meditation as well.
2. Online Web Listing:
Being compiled is a list of certified Mastery of Meditation teachers.  You will be listed there and if you have a website, you will receive a link to it as well.
3. 100% Money Back Guarantee:
As with every product I offer, there is a 100% money back, no questions asked guarantee.  So if for any reason you are unhappy with the program, I will refund your money right away.

4. Fees:
I was shocked to see some of the fees being charged for various meditation certification around the globe today.  It makes me wonder if these "institutions" are really interested in spreading the light of meditation or in making money.  Some programs are charging nearly $10,000, and some even more!  That stops here.  As you know Mastery of Meditation and Yoga, now one of the largest meditation and yoga websites on the web, is 100% free.  That should make it quite clear what my interest and passion truly is.
You decide how to much to pay for the training program, based on the three options below. If you can afford it, you can pay $101, if you cannot, you can choose to pay $51 or $21. The program is the SAME regardless of how much you can pay, I just want to make sure that under no circumstances should money prevent you from walking this path. If you are still unable to pay any of those amounts please contact me and we will work out some other arrangement.

5. Register for Mastery of Meditation Teacher's Training Program

Upon payment you will receive an email with a confirmation link in it.  Please click that link as it will then take you to the download page for the additional materials and instructions you need for the training program.  If you have any questions please feel free to email me at anmol@anmolmehta.com. 
To Order Choose Your Price and Click Buy Now Button Below
You can pay $101, $51 or $21 depending on your financial situation.


If you would like to pay by check instead then please email me at anmol@anmolmehta.com and send check as follows…
Make it out to:
Anmol Mehta
Send it to:
Anmol Mehta
66 Corona Court
Old Bridge, New Jersey 08857
USA
Thanks You and God Bless You.